Gravity Media's new integrated TMO & comms solution relies on EVS' Xeebra® multi-camera review platform to provide precision video adjudication for a wide range of live televised sports in the region ​
Liège, Belgium, June 15th 2021: EVS, the leading provider of live video technology for broadcast and new media productions, today announced that OB production giant, Gravity Media, has adopted its Xeebra® multi-camera review system as the core technology for the company's new integrated video adjudication and communications solution.
Xeebra® is fast becoming the industry's standard in video officiation, Television Match Official (TMO) and Video Assistant Referee (VAR) for live sports. It provides officials with everything they need to simply review evidence in real-time and make the right call – quickly and efficiently.
"With Xeebra at the heart of our GRS offering, we're empowering officials to make the right call, keep sports safe and ultimately deliver a premium audience experience for our broadcast clients." – Ben Madgwick, Director Media Services & Facilities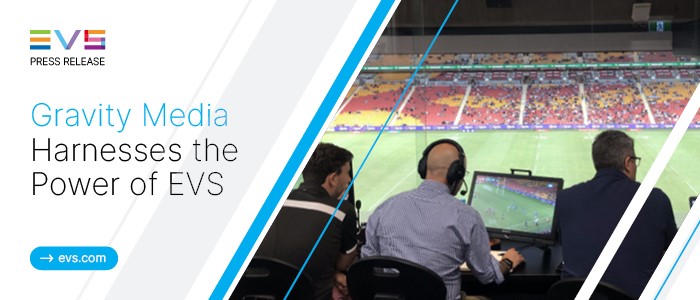 Renowned worldwide for supplying high-quality broadcast equipment, production facilities and services, Gravity Media supports the biggest names in broadcast and sports. Its new Gravity Review System (GRS) harnesses Xeebra® to provide clients with precision live video judicial replay and integrated communications as a full-service OB package. The Australian market will be the first region to benefit from this new service.
An incredibly adaptable platform, Xeebra® is easily integrated into any live production workflow or environment, making it ideal for a broad range of sports and events. Fully networked and scalable, it can be deployed on-board an OB unit or set-up onsite with fibre connection in a convenient compact flight-case configuration. Supporting Full HD 1080p and super slow-motion, the system allows Gravity Media to be highly responsive to clients' production requirements.
Xeebra® provides a simple interface with powerful "pinch and zoom" capabilities that enables users to review and share multiple synchronised camera feeds with each other. They can easily zoom in from many camera angles and dynamically search for incidents or rule infringements. The Xeebra® system records the action continuously so nothing is missed. This means that even if multiple incidents occur simultaneously, they are recorded and cued, ready for review and speedy penalty decisions.
"The job of referees and sports officials is a difficult one and their performance is often under as much scrutiny as the players on the field," said Ben Madgwick – Director Media Services & Facilites, Gravity Media. "Using our GRS, there's less scope for error and debate over crucial decisions which has a huge impact on the flow of a game and the quality of the production."
The Xeebra-based GRS made its debut earlier this year at a major motor racing fixture in New South Wales, giving officials real-time coverage of the race from all angles to resolve controversial incidents and ensure drivers adhered to strict driving behaviour. The platform has continued to successfully earn its stripes in other fields of play, providing efficient TMO and Head Injury Assessment (HIA) for Australian Rugby Union's Super Rugby, Trans Tasman, and international fixtures.
Madgwick concludes: "With Xeebra at the heart of our GRS offering, we're empowering officials to make the right call, keep sports safe and ultimately deliver a premium audience experience for our broadcast clients. As with all EVS solutions, it's reliable, easy to deploy – just set and forget it – and vitally it's operator-friendly. That's why EVS continues to be our go-to technology partner for the fast-paced demands of live production."
"We're delighted to support Gravity Media as it extends its offering to the thriving Australian live sports market," says Dylan Cameron, Operations Manager Australia at EVS." The power of the Xeebra platform is its adaptability to deliver in any live sports production and this makes it an ideal fit for Gravity Media as it grows its client base in this region and beyond."
About Gravity Media
Gravity Media is a leading global provider of live broadcast facilities and production services. We supply production, programming and content services for every broadcast need, working with content owners, creators and distributors. With people and facilities in world-wide, we take pride in truly understanding our clients' needs, offering cost-effective solutions that harness the best of the latest technologies.
About EVS
We create return on emotion
Globally recognized as the leader in live video technology for broadcast and new media productions, our passion and purpose are to help our customers craft compelling stories that trigger the highest return on emotion. Our comprehensive range of solutions enables media companies and content creators to deliver the most gripping live sports images, buzzing entertainment shows and breaking news content to billions of viewers every day – and in real-time.
The company is headquartered in Belgium with offices in Europe, the Middle East, Asia and North America, and provides sales and technical support to more than 100 countries. EVS is a public company traded on Euronext Brussels: EVS, ISIN: BE0003820371.
Search For More Content