The significant purchase addresses growing demand from Gravity Media clients
ALAMEDA, USA – UK-based Gravity Media, a leading global provider of complex live broadcast facilities and production services to content owners, creators and distributors – has made further significant investment into its real-time communication systems for live event broadcasts. The new equipment meets increased demand for Gravity Media's services, particularly for live sports. It will initially support a project with long-time client, UEFA European Soccer League, before being made available to other customers worldwide.
The purchase includes 20 new V-Series™ Iris Panels, in addition to Gravity Media's existing Clear-Com Eclipse® HX Digital Matrix within their London facility, as well as  Station-IC™ Virtual Desktop Client licenses. The Station-IC client will enable Gravity Media's expert technical teams to create a completely scalable intercom user station, which includes talkback both on desktop and for working remotely; something that's essential given ongoing global travel restrictions and decentralised live production.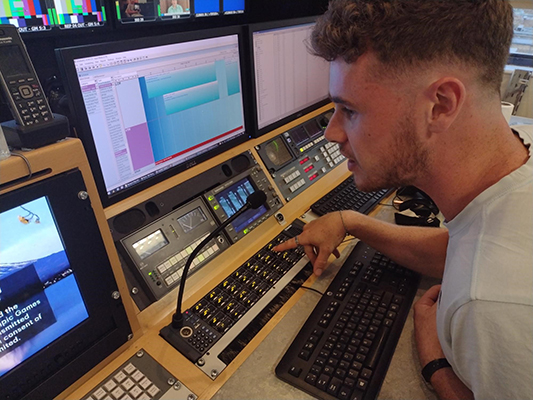 Also included is a new Session Initiation Protocol (SIP) license based on Clear-Com's LQ® Series of IP Interfaces. This marks a shift away from legacy Integrated Services Digital Network (ISDN) communication standards to SIP. The new investment is due to the phasing out of ISDN communications in the UK and to enhance the overall scalability, quality and control of Gravity Media's communication systems in the IP space.
This investment builds on Gravity Media's previous purchases of Clear-Com equipment in preparation for women's professional soccer in 2019, when Gravity Media purchased several of Clear-Com's LQ Series IP Interface Devices to enable IP communications for roving presentation teams across France. Both these and the Agent-IC® Mobile App licenses enable IP and app-based communications to Gravity Media's Eclipse HX digital matrix intercom, enabling talkback from smart devices over 3G, 4G, LTE and Wi-Fi networks which has proven invaluable during COVID-19 restrictions.
Nick Symes, Director of Technology at Gravity Media in EMEA commented: "This additional purchase of Clear-Com equipment is further evidence that we're committed to continually adapting our workflows and facilities to meet the evolving needs of our customers. Gravity Media has a longstanding relationship with Clear-Com, thanks to its cutting-edge, dependable live communication technology offering. We look forward to continuing to deploy their technology to deliver flawless experiences for our global client base."
About Gravity Media
Gravity Media is a leading global provider of complex live broadcast facilities and production services to content owners, creators and distributors. We use the collective pull of our people and resources to capture, craft and create world-class content that inspires and excites. Our 500 people serve clients across the sport, media, news and entertainment industries from bases in the UK, Australia, USA, France, Germany and Qatar.
Gravity Media is a brand-new company with a 30-year pedigree, a force to be reckoned with formed by the coming together of four well known broadcast and production houses: Gearhouse Broadcast, HyperActive Broadcast, Input Media and Chief Entertainment.
For more information, please visit: gravitymedia.com
About Clear-Com®
Clear-Com, an HME company, is a trusted global provider of professional real-time communications solutions and services since 1968. We innovate market proven technologies that link people together through wired and wireless systems.
Clear-Com was first to market portable wired intercom systems for live performances. Since then, our history of technological advancements and innovations has delivered significant improvements to the way people collaborate in professional settings where real-time communication matters. For the markets we serve — broadcast, live performance, live events, sports, military, aerospace and government– our communication products have consistently met the demands for high quality audio, reliability, scalability and low latency, while addressing communication requirements of varying size and complexity. Our reputation in the industry is not only based on our product achievements, but also on our consistent level of customer engagement and dedication to delivering the right solutions for specialized applications, with the expertise to make it work. Around the globe and across markets, Clear-Com's innovations and solutions have received numerous awards and recognitions for ingenuity and impact to customers.
For more information, please visit www.clearcom.com
Search For More Content