Hiltron Communications announces a new addition to its HMAM family of motorised antenna pedestals. The HMAM-PM is a polar mount system which comes as a complete package with a 1.8 or 2.4 metre diameter offset satellite dish antenna. Designed as a cost optimised and quickly installable solution for professional receive-only downlinks, it is intended for use in satellite monitoring, programme acquisition, SNG downlinks or automated backup at cable headends and teleports.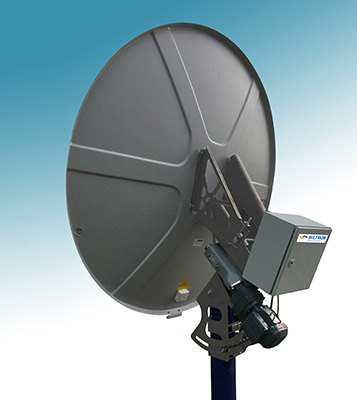 "Satellite antenna mounts in the HMAM series have already proved their reliability, flexibility and ease of use at hundreds of stations around the world," comments Hiltron Managing Director Antonio Monteverde. "The HMAM-PM continues this tradition of robust construction and high-precision performance. Its design and the use of a 17 bit optical absolute encoder provide highly reliable and very accurate positioning far beyond the stability of commercial grade actuator devices.
"Once a satellite orbit position is known, precise access parameters can be calculated at the press of a single button. With its frequency controlled induction motor and drive system, the HMAM-PM acquires any position within a 90 degree orbit arc in less than 30 seconds. The very high rigidity of the construction ensures essentially zero backlash and a relative positioning accuracy of better than 0.04 degrees."
The HMAM-PM has all the remote control capabilities of larger mounts in the HMAM series. Included with the HMAM-PM is an integrated modular Hiltron Antenna Control Unit (HACU) with an integral web interface. The HACU is based on the architecture of Hiltron's established and proven HCS controller which has four free module slots providing room for options like polarisation drive, LNB supply and monitoring or switch control. All the information required to set and maintain antenna positions is displayed on the control GUI, including current and target positions plus a database of potentially accessible satellites. An SNMP interface is available for integrating the polar mount antenna into an existing monitoring and control system.
Two versions of the HMAM-PM are being introduced: one basic and one with a fully integrated de-ice system for the reflector and feed arm. The Hiltron DCU antenna heating module integrates with the HACU to provides user-configurable current monitoring and alarms, ambient temperature and snow sensor. Operators can choose between manual and fully automatic operation mode.
The entire system is built to withstand standard atmospheric pollutants and to operate from zero to 95 per cent humidity over a temperature range of 35°C (optionally 55°C) down to -25°C. The HMAM-PM can be built, if so required, to withstand pollutants such as salt encountered in coastal and industrial areas.
ABOUT HILTRON
Hiltron Communications (www.hiltron.de) is a globally active system integrator, manufacturer and distributor in the field of satellite and wireless communication. The company operates from modern purpose-built headquarters at Backnang near Stuttgart. On-site facilities include a large technical operations area with high access doors and ceiling, capable of accommodating satellite-link vehicles and their roof-mounted antennas.
Search For More Content