Holdan, a specialist distributor to the professional video and broadcast sector and part of the Midwich Group, is pleased to announce the acquisition of the business and certain assets of Intro 2020, a specialist distributor of imaging products.
Established in 1971, Intro 2020 is one of the country's leading suppliers of photo and pro-video equipment, carrying such brands as CamRanger, Cokin, Cotton Carrier, Hoya, Kenko, Lenspen, Op/Tech, Plustek, Samyang, Slik, Steiner, Summit, Tamrac and Velbon.
The acquisition takes place immediately, with the migration of systems and data taking place over the coming weeks. Every effort is being made to ensure that the transition is as smooth as possible for Intro 2020 customers.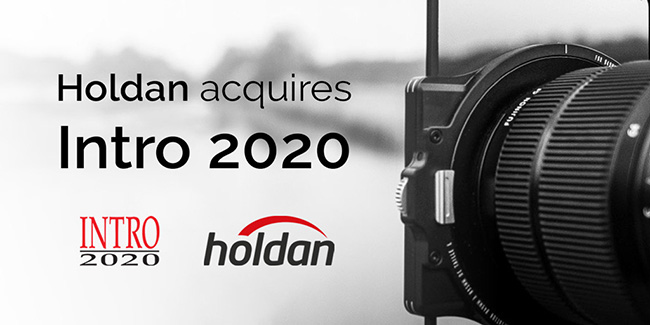 Allan Leonhardsen, Managing Director, Holdan, commented:
"Intro 2020's extensive imaging portfolio and established client base in the professional photography segment is extremely attractive to Holdan as they perfectly complement our broadcast & professional video offerings. Strategic acquisitions such as this allow Holdan to take full advantage of emerging segment crossover opportunities to maximise revenue going forward."
Keith Ruffell, Managing Director, Intro 2020, commented:
"I am delighted that we have been able to reach a deal for Intro 2020 to become part of Holdan. This not only secures the future of our business, but also opens up a bright future of growth with the backing of a large, successful multi-national company. Our brands and products have great synergy with those that Holdan already offer and we look forward to providing a bigger and even better service to our valuable customers."
Enquiries may be directed to: Allan Leonardsen – allanl@holdan.co.uk / David Fidler – davidf@holdan.co.uk
About Holdan
Holdan is one of the largest trade suppliers in the professional video and broadcast sector, supplying resellers and integrators in the UK, ROI and across Europe. Part of the Midwich Group, we represent high profile brands, and provide the highest level of sales, marketing, service, and technical support.
Established in 1996, Holdan has built a reputation as a value-added distributor with a friendly and honest approach. We aim to give our customers excellent service and we truly care about the quality of our delivery. We aspire to be efficient and easy to work with.
Midwich Group
Midwich Group is a specialist AV distributor to the trade market, with operations in the UK and Ireland, EMEA, Asia Pacific and North America. The Group's long-standing relationships with more than 500 vendors, including blue-chip organisations, support a comprehensive product portfolio across major audio-visual categories such as large format displays, projectors, digital signage, unified communications, and professional audio. The Group operates as the sole or largest in-country distributor for several its vendors in their respective product sets.
Initially a UK only distributor, the Group now has 1,000 employees across the UK and Ireland, Continental Europe, North America, and Asia-Pacific. A core component of the Group's growth strategy is further expansion of its international operations and footprint into strategically targeted jurisdictions.
Visit the Midwich Group Website
About Intro 2020
Established since 1971, Intro 2020 is an independent importer and distributor, specialising in quality imaging products for the UK and Ireland.
Award-winning and recognised in the industry as one of the country's leading suppliers of photo and pro-video equipment, Intro 2020 prides itself on meeting the needs of demanding professionals and amateurs alike.
We focus on our ability to support customers with a comprehensive range of products and services by offering technical support, in-store demonstrations, advice and servicing via our on-site service centre.
Search For More Content