Holdan, a specialist distributor to the professional video and broadcast sector and part of the Midwich Group, is pleased to announce they will be taking over the exclusive distribution of Fledging products in the UK, Ireland and mainland Europe.
Fledging designs and develops smart, functional and affordable hardware for creative professionals. Their goal is to redefine how people interact with the technology they use every day.
Fledging's most recent market introduction is the Spruce Charger. Billed as the 'King of Chargers', Spruce can charge up to 5 devices at once, including a laptop and a wireless device, to free up valuable desk real estate.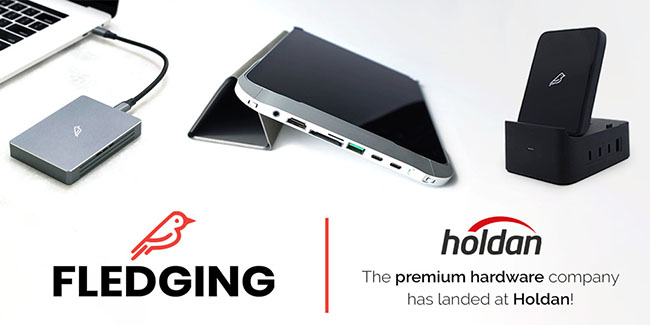 Fledging products will be available to Holdan and Midwich Group channel partners from July 1st, 2021.
David Fidler, General Manager, Holdan, commented:
"At Holdan we are truly proud to be distributing Fledging products exclusively in the UK and Europe. This new and exciting partnership, offering premium and innovative products for storage, iPads and wireless charging, perfectly complements Holdan's portfolio for the creative market."
Ethan Summers. Chief Executive Officer, Fledging, commented:
"Fledging's mission to bring premium electronics to everyone is taking its biggest step yet with this partnership with Holdan. We're excited to bring our best products to the European markets. Shell Thunder, a high-performance Intel-certified Thunderbolt 3 enclosure, is ideal for anyone who reads and writes large files. By connecting with Holdan's video and broadcast customers, we will be able to introduce Shell Thunder to a whole new group of creatives."
Enquiries may be directed to: sales@holdan.co.uk
About Holdan
Holdan is one of the largest trade suppliers in the professional video and broadcast sector, supplying resellers and integrators in the UK, ROI and across Europe. Part of the Midwich Group, we represent high profile brands, and provide the highest level of sales, marketing, service, and technical support.
Established in 1996, Holdan has built a reputation for a friendly and honest approach. We aim to give our customers excellent service and we truly care about the quality of our delivery. We aspire to be efficient and easy to work with.
We are a value-added distributor, not a reseller.
Midwich Group
Midwich Group is a specialist AV distributor to the trade market, with operations in the UK and Ireland, EMEA, Asia Pacific and North America. The Group's long-standing relationships with more than 500 vendors, including blue-chip organisations, support a comprehensive product portfolio across major audio-visual categories such as large format displays, projectors, digital signage, unified communications, and professional audio. The Group operates as the sole or largest in-country distributor for several its vendors in their respective product sets.
Initially a UK only distributor, the Group now has 1,000 employees across the UK and Ireland, Continental Europe, North America, and Asia-Pacific. A core component of the Group's growth strategy is further expansion of its international operations and footprint into strategically targeted jurisdictions.
Visit the Midwich Group Website
About Fledging
Fledging invents beautifully useful hardware for creative professionals. Since 2018, they've built a portfolio of products – from Mac SSD internal storage to high-speed external storage to integrated hub and case tablet solutions to high-wattage multiport desktop power – all built to help the people who earn their living by making amazing content, do it better, faster, and easier. Premium electronics should perform wonderfully, last as long as possible, and be fairly priced. That's Fledging's mission: premium electronics for everyone.
Search For More Content