IABM calls for entries for BaM Awards® and Annual Awards
Fri 16, 10 2020
Help us recognize and reward exceptional innovation, talent and dedication
IABM has today opened entries for its prestigious BaM Awards® for technological innovation and its Annual Awards that recognize talent and dedication. The winners will be announced during IABM's BaM Live!™ virtual event on Wednesday 3rd December 2020. The single BaM Awards® event this year replaces both the usual NAB Show and IBC editions, which IABM was naturally unable to run.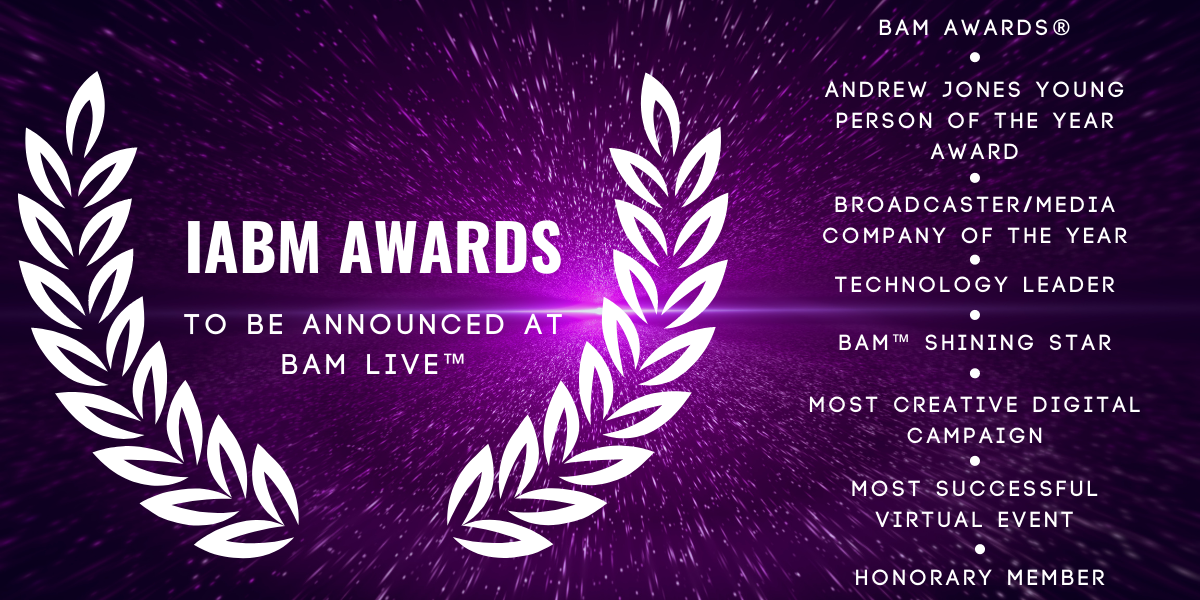 BaM Awards®
The IABM BaM Awards® recognize outstanding technological innovations that deliver real business and creative benefits. The BaMs® are the only truly independent technology awards in the industry and are widely recognized as the gold standard for rewarding broadcast and media innovation. Judging is carried out by a panel of 40 independent, expert judges. Submissions for the BaM Awards® are open to every company (whether an IABM member or not) that has launched a new product or service within the 12 months prior to the 3rd December 2020 deadline.
The BaM Awards® honor innovations in nine categories that together make up the BaM Content Chain®, accurately modeling the structure of the industry today. The deadline for BaM Awards® submissions is 5th November. More information about the awards and categories, and the online entry form can be found here. Read more about the BaM Content Chain® here.
IABM Annual Awards
The deadline for nominations for the IABM Annual Awards is also 5th November – nominations here. The categories are:
Broadcast/Media Company of the Year
Companies that have demonstrated that they are at the forefront of creating and distributing exceptional content through innovation across the content chain.
Technology leader of the Year
Someone at the forefront of disruption and innovation within the broadcast and media industry who, through inspiring leadership, has helped to deliver ground-breaking technology and business benefits.
Most creative digital campaign
New for 2020, this award recognizes and rewards a significant digital campaign that has taken place during 2020.
Most successful virtual event
Also new for 2020, this award recognizes and rewards a successful virtual event that has taken place during 2020.
Andrew Jones Young Person of the Year
This award recognises someone new to the industry (under 25 years old) for their hard work, diligence and potential.
"With NAB Show and IBC cancelled this year, we were unable to run our usual BaM Awards® programs centered around these shows," said Peter White, CEO at IABM. "However, 2020 has seen arguably the greatest amount of innovation ever compressed into a single year as companies responded creatively to the limitations imposed by social distancing requirements and we need to highlight and reward these achievements more than ever. I am therefore expecting a flood of entries for both the BaM Awards® and the Annual Awards. We will celebrate the winners at a special event within BaM Live!™ to give the recipients maximum exposure and recognition."
Related Content
Based on your recent activity and preferences we recommend the following pieces of content