Broadcast-centric Labour Union Opens the Dialogue Between Technicians and Manufacturers With Series of Webinars
Staying informed and networking within the media industry has never been more vital, or more difficult. Being aware of this challenge, IBEW Local 1200's business manager Geoff Turner created an opportunity for broadcast engineers and product manufacturers to have the important conversations that typically happen at trade shows and in-person events. Turner turned to TSL Products to host the first in a series of IBEW-sponsored webinars that join together the manufacturing community with IBEW union members, providing an interactive experience for technicians to learn about the latest industry trends and technological advancements.
"Without sports, many of our union members were left without work and sitting on the side lines, and I wanted to find a way to help keep them active in their professional lives," says Turner. "When the pandemic struck the United States, broadcasters watched as events, and even entire sports seasons, went away overnight, resulting in very uncertain times for IBEW members. Prior to COVID, I was hoping to plan a series of educational presentations for IBEW members to meet with manufacturers in-person to collectively advance their understanding as broadcast transport systems became more packetized and digitized. However, when the pandemic struck, I knew there was no better time than now to get the conversation going – it would just have to be virtualized."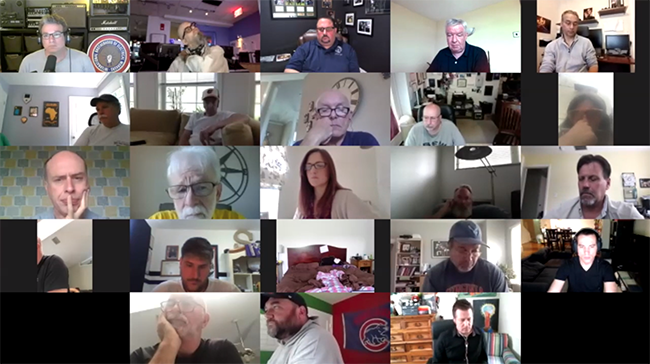 When seeking out a manufacturer to lead the first webinar in the series, Turner immediately thought of TSL Products. "I remembered meeting with Greg Siers and Stephen Brownsill from TSL at the NAB show a few years back, and I knew that that was the type of conversation and experience that I wanted to provide to IBEW members during these uncertain times," says Turner. "I called Greg to run the idea by him, and he was on board from the get-go. As many broadcast engineers and operators had to suddenly adapt to a remote workflow, we had to build a lot of confidence in a really short period of time, and TSL played a huge part in that."
TSL's Stephen Brownsill, audio product manager, led the presentation along with Mark Davies, director of products and technology, which was streamed live via Zoom and recorded to make it accessible, on-demand, for all IBEW union members. "During the presentation, Stephen shared how TSL had been working on ideas surrounding remote broadcast control capabilities, and how the pandemic pushed them to adjust their R&D roadmap in order to support the current needs of the industry. By listening to customer's needs surrounding remote control, TSL is able to provide the tools needed for successful broadcasts during these times," says Turner.
Thanks to advancements in remote control, such as those from TSL Products, many broadcast engineers and IBEW members are able to continue working from the safety of their homes. "There's an upside in every technological shift," adds Turner. "No matter what happens during a live event, we rely on the broadcast engineers and operators to be able to pull it off, and the same expectations came into play when everyone went remote. The idea behind launching this presentation series was to give IBEW members direct access to product vendors so they are more informed about what's coming around the corner in the industry. On the other hand, this open dialogue also provides manufacturers with an understanding of what works for customers and what gaps exist, whether its technical gear or user knowledge."
Turner is currently in the throes of planning for an additional three webinars. "We received such awesome feedback from IBEW members after the TSL webinar, and they definitely want more. These presentations will continue to be held virtually for now, but I look forward to the day where we can rent out a big room at NAB, getting everybody back together again to reflect on all the technology advancements and the lessons we've learned as a result of the pandemic. TSL will forever be a founding member of this idea and we couldn't have chosen a better manufacturer to work with on this first presentation. We appreciate that the TSL team was willing to share their experience and knowledge with us, ultimately delivering one profound message: never underestimate your broadcast engineers."
About IBEW 1200
The International Brotherhood of Electrical Workers (IBEW), a union of 750,000 members, is dedicated to securing good wages, solid benefits and safer job sites for its members. Since forming in 1959, IBEW Local Union 1200 represents hundreds of members who are an integral part of the broadcasting business. With 14 collective bargaining agreements, members are engaged in every aspect of the industry, working at local television and radio stations of every network affiliation throughout the Southeastern United States, from Maryland to Louisiana. IBEW LU 1200 technicians are vital to coverage of the vast majority of major sporting events, including NFL football, MLB, NASCAR, the PGA Tour, NCAA football and basketball, and US Open tennis.
About TSL Products
For over 30 years we have worked directly with the world's leading broadcasters and content creators to design, manufacture and market a range of broadcast workflow solutions that serve to simplify operations within the television broadcast, cable, satellite, IPTV and IT industries. Specialising in audio monitoring, broadcast control systems and power management tools, we ensure that our solutions satisfy and exceed the commercial, technical and operational requirements that exist in IT-based and traditional workflows to help our customers lower costs, generate revenue and streamline operations.
Search For More Content