Oberteuringen, Oberteuringen, January 16, 2020 – IHSE, the leading manufacturer of high-end KVM solutions for the extension and the switching of computer signals, is expanding its portfolio with a multiviewer for DisplayPort signals in resolutions up to 4K60. The Draco MultiView4K60 allows real-time display of up to four video signals on one or two monitors with picture-in-picture function.
The use of multi-viewer devices facilitates the monitoring of several video signals in your field of vision and reduces costs and complexity by having only one large monitor. Typical areas of application for multiviewer devices are control rooms of television stations and monitoring centers, for example in traffic surveillance.
The Draco MultiView4K60 allows several computers to be operated from one single workstation. The device supports all typical visualization scenarios as they can be found in a control room setting. The individual input signals can be arranged in any order and displayed in different modes, for example FullScreen, SplitScreen or Picture-in-Picture. Via hotkey or API, it is possible to switch instantly between the required layouts or source signals allowing to work ergonomically and effectively.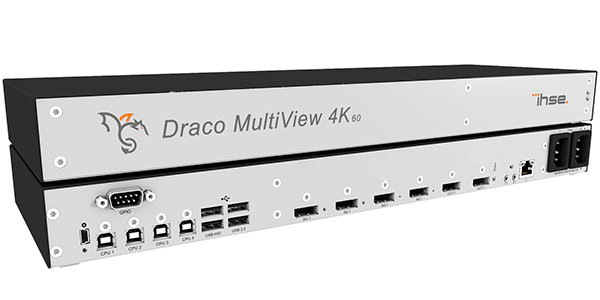 Convenient switching by mouse movement
Switching between video sources can be done easily and in real-time by moving the mouse to the required content. Alternatively you can switch with keyboard commands or with external push buttons.
Never miss any audio alerts
The embedded audio signals can be output to a loudspeaker (analog or digital) via a separate audio interface. Either the audio track of the currently active monitor or a combination of the various audio signals can be output so that relevant signal tones can be heard at all times, regardless of the source.
Fail-safe and space-saving
The Multiviewer has redundant power supply and extensive SNMP options for status monitoring (video, PSU, temperature and switching status).
The Draco MultiView4K60 fits seamlessly into the modular Draco vario design and can be mounted under a table to save space. The dimensions correspond exactly to those of a 6-slot Draco vario chassis.
Compatible with Draco extenders and switches
The Draco MultiView4K60 is a standalone unit and fully compatible with Draco vario extenders and the Draco tera KVM matrix family.
Alongside other KVM solutions for access and management of complex computer networks, IHSE will showcase the Draco MultiView4K60 at ISE in Amsterdam, February 11 – 14, 2020. Stand no. 10-N189.
About IHSE
IHSE is a leading developer and manufacturer of advanced KVM (keyboard, video, mouse) solutions with more than 30 years of experience. KVM technology enables the remote switching, distribution, bidirectional extension and conversion of primary computer signals including DVI, HDMI, 4K DisplayPort, audio and USB. IHSE develops and manufactures an extensive range of KVM switches and extenders with visually lossless signal transmission from headquarters near Lake Constance, Germany.
IHSE products have been certified for outstanding manufacturing quality, security, operability, resilience and high transfer speeds. Many renowned companies and institutions across vertical segments including Broadcast, Post Production, ProAV, Esports, Air Traffic Control, Control Rooms, Banking, Industrial, Corporate, Medical, Maritime, Education, Venues & Entertainment and Government rely on KVM solutions made by IHSE, Germany. For further information please refer to www.ihse.com
Search For More Content