Oberteuringen, August 20, 2019 – IHSE launched IP module for location-independent access to the KVM matrix. This provides remote users with seamless and secure access to closed and self-contained Draco KVM installations.
The new Secure IP Remote Access Gateway module connects the KVM matrix to private or public TCP/IP networks. This allows very high-performance remote access to matrix-connected target devices via an HTML browser or soft client.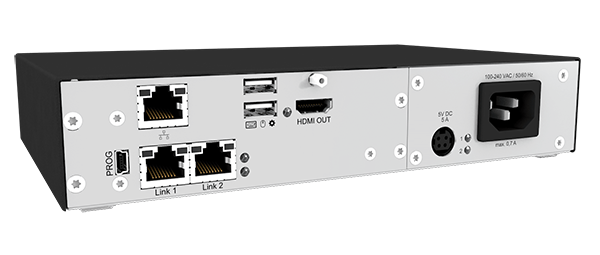 Flexible access – fully secure
The new Secure IP Remote Access Gateway adds more flexibility to the Draco tera matrix series without sacrificing the philosophy of securely isolating the core matrix and signal management from TCP/IP. Encrypted signal transmission via IP ensures protection of intellectual property while still offering most flexible access to matrix connected target devices from remote locations via private or public networks.
HTML-5.0-based browser access provides maximum flexibility even from mobile devices for remote administration. Windows® and Linux-based client software provides additional performance and functionality.
Excellent image visualization
The IP module offers excellent image quality with 1080p60 video signal at 8 bit color depth. 4K resolution with 30 fps can also be achieved.
For the first time near real-time performance (signal latency below 50 ms) can be achieved without dedicated receiver hardware. Instead the receiver is mapped as a receiving device using PC hardware. The network technology requirements are extremely low: the Secure IP Remote Access Gateway does not require elaborate multicast architectures, nor does it need the high bandwidths of equivalent systems.
High compatibility
The Secure IP Access Gateway CON is designed for use with Draco tera KVM switches and is seamlessly compatible with the Draco vario extender series and Draco vario chassis. In addition to remote access, it offers HDMI and USB interfaces for local access to rack or workplace levels.
IHSE's solutions for access and management of complex computer networks are available for demonstration at IBC in Amsterdam, 13 – 17 September 2019. Stand no. 7.A09.
About IHSE
IHSE is a leading developer and manufacturer of advanced KVM (keyboard, video, mouse) solutions with more than 30 years of experience. KVM technology enables the remote switching, distribution, bidirectional extension and conversion of primary computer signals including DVI, HDMI, 4K DisplayPort, audio and USB. IHSE develops and manufactures an extensive range of KVM switches and extenders with visually lossless signal transmission from headquarters near Lake Constance, Germany.
IHSE products have been certified for outstanding manufacturing quality, security, operability, resilience and high transfer speeds. Many renowned companies and institutions across vertical segments including Broadcast, Post Production, Air Traffic Control, Control Rooms, Banking, Industrial, Corporate, Medical, Maritime, Education, Venues & Entertainment and Government rely on KVM solutions made by IHSE, Germany. For further information please refer to www.ihse.com
Search For More Content