IHSE USA will feature a new line of high-performance KVM (keyboard, video, mouse) workstation management solutions in booth SL9610. Whether the application requires ultra-high-resolution 4K video, super-fast video refresh rates, or government-grade, secure access points, IHSE has a solution.
Additional presentations at the booth will include integrated KVM solutions using IHSE USA products and those of select partners, including Avid, Vizrt, EVS, Lawo, DNF, VuWall and HighSecLabs. For a real behind-the-scenes look at KVM in action, attendees can visit the Vizrt booth (SL3316), where all workstations will be connected with IHSE switching products.
In addition, IHSE is a sponsor of the inaugural NAB Esports Experience located in the North Hall (N1522). There, visitors can learn more about KVM's role in esports and listen to industry leaders present success stories of how designers, gaming developers, and live event planners are achieving amazing results with IHSE products. Also during the 2019 NAB Show, IHSE USA will celebrate the ten-year anniversary of the opening of its U.S. office in Cranbury, New Jersey.
Draco vario Ultra HDMI 2.0 Extender
IHSE brings TRUE KVM workstation management solutions to the 2019 NAB Show with the latest HDMI 2.0 extenders for 4K video and USB keyboard and mouse extension over fiber or Cat-X connections. Based on the highly efficient Fraunhofer IIS Lightweight Image (Lici) codec, the new Draco vario Ultra HDMI 2.0 extenders enable picture-perfect transmission of video sources with resolutions up to 4096 x 2160 at 60 hertz and full color depth (10 bit, 4:4:4). Offered in several module types, Draco vario Ultra includes features such as looping outputs and redundant ports for maximum efficiency, whether used as point-to-point connections or integrated into IHSE's high-performance KVM switch systems.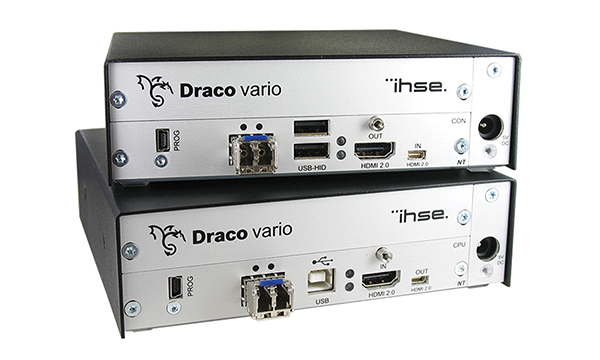 Draco vario Remote IP CPU
KVM meets virtual machines with the Draco vario Remote IP CPU, which combines the functionality of a thin client with a KVM extender (transmitter) for seamless KVM connectivity to an IP infrastructure. The Draco vario Remote IP CPU supports RDP, RemoteFX, SSH, and VNC protocols to connect individual workstations to virtual machines as though they were accessing real PCs, with immediate access and single sign-on for ease of operation. Further remote protocols will be incorporated in the future and can be made available on demand. A single Remote IP CPU can host up to eight simultaneous sessions. This space-saving solution is fully compatible with the Draco vario extender and the Draco enterprise and compact matrix switch series.
The KVM infrastructure adds extensive flexibility to an RDP session. RDP sessions can now be shared among multiple users, delivering better collaboration and control-room solutions.
Draco compact ultra KVM Switch Systems
At the 2019 NAB Show, IHSE USA will promote the new Draco compact ultra, a prepackaged KVM matrix solution for HDMI 2.0. Supporting configurations from 16 x 8 to 32 x 16, the Draco compact ultra enables lightning-fast switching of HDMI 2.0 computer video with embedded stereo audio and USB-HID for keyboard and mouse connections. This compact, packaged solution features IHSE's exclusive Flex-Port technology, saving systems installers tremendous time preconfiguring ports to specific I/O requirements. The new solution is ideal for command and control, broadcast and postproduction, energy management, air traffic control, simulation and visualization, and other advanced deployments in which video-rich applications are used.
Draco compact ultra is built on IHSE's proven Draco ultra series extender platform and utilizes the Fraunhofer Institute's Lightweight Image (Lici) codec, which ensures brilliant image quality and outstanding color accuracy at the highest video resolutions. Each Draco compact ultra matrix system includes a full set of transmitter and receiver modules supporting 4K resolutions and I/O connections up to 4096 x 2160 and 3840 x 2160 at a real 60-Hz refresh rate and full color depth (10 bit, 4:4:4). The solution extends computer signals from host systems to workstation areas over signal-mode fiber, delivering visually lossless output together with exceptional graphics and video playback performance, even when the computer is located miles away.
Draco ultra DP Now Supports 144-Hz and 240-Hz Refresh Rates for Gaming Applications
IHSE will demonstrate the Draco ultra DP, the first DisplayPort KVM extender with support for 144-hertz and 240-hertz refresh rate. The device constitutes a new generation of digital KVM signal extension using the innovative Lightweight Image (Lici) codec, developed in cooperation with the Fraunhofer Institute for Integrated Circuits. This revolutionary coding technology ensures brilliant image quality at the highest video resolutions with outstanding color accuracy (deep color-ready). The extender solution allows users to operate CPUs from devices at a remotely located workstation — supporting DisplayPort video devices, keyboards, and pointing devices — over a single duplex fiber cable and can extend resolutions in 32:9 at 144 hertz or 16:9 at 240 Hz up to 5 Km. With built-in USB-HID supporting gaming keyboards, these devices allow the ultra-fast response times demanded by professional gamers.
Company Overview:
IHSE USA is a leading provider of KVM (keyboard, video, and mouse) products supporting long-distance signal extenders and switching for DVI, HDMI, VGA, SDI, USB, audio, and RS-232 serial data. For 30 years, IHSE has been developing new and innovative ways of supporting next-generation products for KVM and signal extenders. IHSE technology is deployed worldwide by public and private organizations in industries such as broadcasting, postproduction, government and military, medical, financial, and oil and petroleum. The company offers a complete line of DVI and HDMI video extenders over Cat-X or fiber-optic cables for mission-critical video and data access.
Search For More Content