Ikegami Electronics (Europe) has chosen Leader's LV5600 broadcast-quality waveform monitor for integration into the technical facilities at its headquarters in Neuss. The new instrument is equipped with a 25G-SDI interface and will used be both for routine test and measurement and to demonstrate Ikegami's latest UHD cameras as well as the company's established range of HD-SDR and HD-HDR models.
"A key reason why we have opted for the LV5600 is that it includes a very high precision video noise measurement toolset, says Michael Lätzsch, Broadcast & Professional Video Division Manager at Ikegami Electronics (Europe). "Signal-to-noise ratio has always been a crucial aspect of broadcast television and digital film production and is one in which Ikegami excels. The accelerating transition to 4K-UHD HDR mastering for high-budget programmes makes low noise content capture more important than ever. The LV5600 menu is very logical to navigate and the 25G-SDI interface makes connectivity easy. Equally important is the ability to evaluate and display SDI and IP parameters in a single unit. Our customers are increasingly adopting IP, not least in the sports and mobile production sectors, both for in-venue links and to transport content quickly and efficiently back to base.The portability of a standalone waveform monitor is also useful as the instrument can be shared easily between our demo and technical-support suites."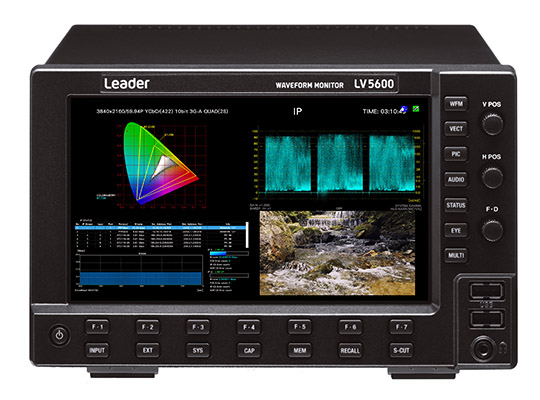 "Leader instruments are used by many major manufacturers around the world as an integral part of their product development, testing, customer-demonstration and post-sale maintenance activity," adds Leader Europe MD Koichi Fukagawa. "We are pleased that Ikegami has chosen the LV5600 as part of its SDI and IP conformance and demo workflow. If our products satisfy Ikegami's demanding requirements, broadcasters should see this as confirmation of its confidence in Leader products."
Leader's LV5600 is a mains-powered SDI/IP waveform monitor in a half-rack width 3U desktop chassis with a touchscreen front panel display. It provides all the facilities needed to monitor UHD/HD/SD SDI as well as video-over-IP signals seamlessly in a hybrid operating environment. Engineering-related features include test pattern generation, eye pattern display, closed-caption monitoring, CIE colour chart, high dynamic range measurement, focus assist, adjustable screen layout, tally interface, 4K/UHD operation, 10G IP input and 12G-SDI interfaces. SMPTE 2022-6, SMPTE 2022-7 and SMPTE 2110 protocols are all supported. The LV5600 also incorporates Leader's intuitive CINEZONE and CINELITE which are familiar to many content production staff.
A recently announced option, the LV5600-SER06/LV7600-SER06 is a 25 GbE single-mode video-over-IP / multi-mode fibre IP interface which provides full conformance with the SMPTE ST 2110 standard for transmitting 4K content in a non-compressed format via Ethernet at up to 25 gigabits per second. Also new, option LV5600-SER32/LV7600-SER32 is an IP test pattern generator which can produce HD and 3840 × 2160 UHD test signals for delivery via SMPTE ST 2110-20 / 30/31/40 IP. IP channel stress testing can be performed by adding jitter and errors to IP packets. A network synchronization mode allows PTP-synchronized video and audio test signals to be generated.
About Ikegami
Ikegami (www.ikegami.de) is a leading supplier of high-quality professional broadcast equipment. The Ikegami name is recognized globally for state-of-the-art television cameras, medical cameras and CCTV equipment. World-class CMOS imagery, 4K and 8K technology, multi-format flexibility and unparalleled customer support define the Ikegami experience for users in broadcast, sports venues, mobile production, houses of worship, education, corporate and many more applications.
About Leader Electronics Corporation
Leader Electronics Corporation (www.leader.co.jp/en) has earned a worldwide reputation for designing and manufacturing highly reliable, practical and powerful test and measurement instruments. Leader products are specified for broadcast, production, post production, research, product development and service applications. Manufacturing quality is built in every step of the way. The Leader product range includes award-winning 3G/HD/SD SDI waveform monitors and rasterizers, all with customizable layouts. Among the available options are 4K/UHD, CIE color chart, HDR measurement, test pattern generation, eye and jitter measurement, closed caption display, IP and 12G/6G-SDI. Leader has helped many customers manage their transition from analog to digital, from SD to HD, from HD to 4K/UHD, from SDR to HDR and from BT.709 to BT.2020 wide color gamut. Now Leader also provides SMPTE ST2022-7 and ST2110 support for the transition from SDI to IP.
Search For More Content