Ikegami to Demonstrate 4K Media-over-IP Gateway Module for UHK-430 Camera at IBC 2019
Thu 11, 07 2019
Accompanying image shows the new Ikegami Media-over-IP GW interface module.
Ikegami (www.ikegami.com), a leader in HD and UHD cameras and production equipment for television content creators and broadcasters, will introduce to the European market at IBC 2019 a 4K Media-over-IP gateway for the UHK-430 studio camera.
Designed to slot directly into the camera's CCU-430 control unit, the new module allows 4K UHD video and additional signals such as intercom, return-video feeds to be exchanged between the CCU-430 and a local IP network hub along a light weight optical fibre instead of requiring multiple SDI cables, enabling easy and low latency signal distribution.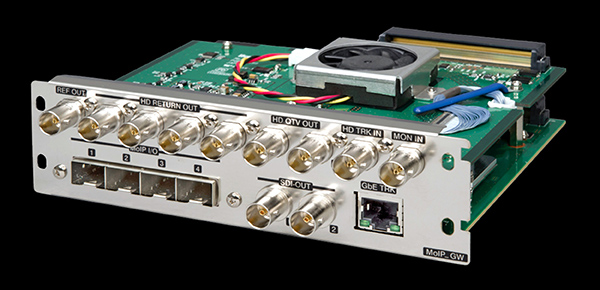 Uncompressed video can be transmitted via an integral optical interface using either one 25 GbE or two 10 GbE SFP modules. Redundancy can be implemented easily to ensure reliability by installing additional SFP modules. The MoIP interface module can be combined with an HD output option to deliver 2160p, 1080p and 1080i over IP and/or SDI simultaneously. Many broadcast systems currently use a mix of SDI and MoIP. For easy workflow transition, 2 x 12G SDI is therefore included as a standard.
Ikegami's UHK-430 is a 4K-native studio camera system with simultaneous HDR/SDR processing. Its three 2/3 inch CMOS sensors provide full 3840 x 2160 UHD resolution plus the depth of field needed for studio and outdoor production. The camera is equipped with a B4 bayonet mount compatible with 2/3 inch HD lenses. An optional SE-U430 expander accommodates large studio or OB lenses.
Additional features of the UHK-430 include the newly-developed Ikegami AXII processor which allows 40 gigabit/s uncompressed full bandwidth video transmission. This processor enables the UHK-430 to deliver a wide range of features power-efficiently, including 16-axis colour correction and focus-assist for 4K and HD video modes. BT.2020 extended colour space specification is supported in 4K mode. BT. 709 colour space is supported in HD modes and can also be switched in during 4K operation. In its standard form, the UHK-430 weighs just 4.5 kg and comes with a 2 inch viewfinder and portable lens. Camera head dimensions are 149 mm wide x 243 mm high x 340 mm front-to-back.
ABOUT IKEGAMI
Ikegami is a leading supplier of high quality professional broadcast equipment. The Ikegami name is recognised globally for state-of-the-art television cameras, medical cameras and CCTV equipment. World-class CMOS imagery, 4K and 8K technology, multi-format flexibility and unparalleled customer support define the Ikegami experience for users in broadcast, sports venues, mobile production, houses of worship, education, corporate and many more applications.
Related Content
Based on your recent activity and preferences we recommend the following pieces of content