Inaugural vortech.by event focusing on the cloud and AI surpasses expectations
Thu 14, 03 2019
14th March – Sweden– The first ever vortech.by event exceeded all expectations, with close to 100 visitors from eight countries coming together in Stockholm, Sweden to discuss the latest technology topics of the moment. This new technology-focused conference, aimed at developers, solution architects and senior technologists in the media and video platform industry, provided major insights into a side of the Media and Entertainment industry that other events do not cover in such depth.
The event, hosted by Vidispine and its parent company Arvato Systems, with Premium Sponsor Amazon Web Services (AWS) and co-hosts Codemill, Grabyo, Magenta Broadcast, Mayam, Qvest Media, Valossa and partner Object Matrix, was created to give technology professionals the opportunity to have an in-depth look at the solutions available today, as well as provide an outlook on what is yet to come within the industry. Attendees enjoyed a wide variety of sessions on topics including the media supply chain, cloud technology and AI over the one-and-a-half day event, with sessions moderated by The DPP. There was also plenty of time for networking and interaction with partners.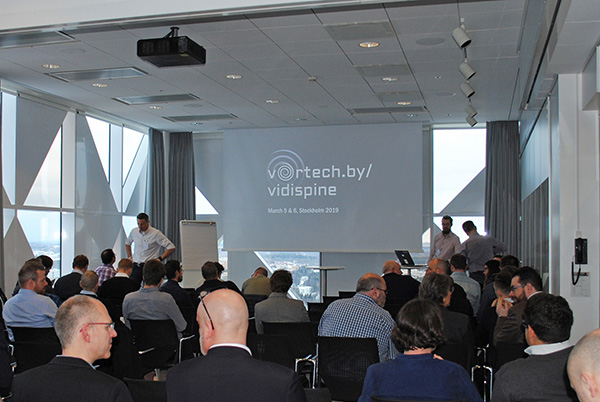 "We have received extremely positive feedback from attendees and speakers about vortech.by. All of the sessions were designed to bring together the best tech minds to share their views of the industry, talking about real-world challenges and the things that work and things that don't," said Isak Jonsson, CTO and Co-Founder of Vidispine. "This is not just a Vidispine event; our aim is that it will grow organically with different hosts. I am sure there are questions after this one that we can examine in greater detail at a future event. It's an event that is very much needed for the development of our industry, so we hope to pass on the baton to one of our co-hosts and see how it evolves."
ABOUT VIDISPINE
Since 2009, Vidispine has enabled the media industry to solve their most complex challenges when it comes to building data-driven, cloud-based media supply chain and media asset management solutions. With video becoming a core function and business enabler for industries outside the media industry, there is a growing need for flexible tools and platforms that can help organizations to adapt content, applications, and processes quickly. Vidispine has commoditized media content management on a platform allowing companies in any industry to build customized media supply chains and media applications.
ABOUT AMAZON WEB SERVICES
For over 12 years, Amazon Web Services has been the world's most comprehensive and broadly adopted cloud platform. AWS offers over 165 fully featured services for compute, storage, databases, networking, analytics, robotics, machine learning and artificial intelligence (AI), Internet of Things (IoT), mobile, security, hybrid, virtual and augmented reality (VR and AR), media, and application development, deployment, and management from 60 Availability Zones (AZs) within 20 geographic regions around the world, spanning the US, Australia, Brazil, Canada, China, France, Germany, India, Ireland, Japan, Korea, Singapore, Sweden, and the UK. AWS services are trusted by millions of active customers around the world—including the fastest-growing startups, largest enterprises, and leading government agencies—to power their infrastructure, make them more agile, and lower costs. aws.amazon.com
Related Content
Based on your recent activity and preferences we recommend the following pieces of content