Kenya's KISS FM future-proofs with Lawo RƎLAY IP radio broadcast technology
Mon 28, 10 2019
Kenya, on Africa's eastern coast, is home to some of the world's most spectacular natural wonders, such as world renowned Masai Mara game reserve, the white sandy beaches of Diani, the glaciers of Mount Kenya, the sprawling expanse of the Mau Forest, and the "Big 5" of the animal world.
Kenya also boasts a vibrant and dedicated musical scene and media landscape. The Radio Africa Group in Nairobi, which serves this scene with six radio outlets, a national newspaper, four TV stations and a digital television platform, recently chose Lawo RƎLAY Virtual Radio technology to modernize their extremely popular flagship radio station, KISS FM.
RƎLAY is a powerful mixing console that runs in a virtualized PC environment on a standard PC or laptop. The intuitive, multitouch-enabled screen interface makes RƎLAY easy to use, and includes advanced features such as voice processing and mix-minus, all controlled with a multi-touch-enabled interface. Pairing RƎLAY software with a third-party playout system and other third-party broadcast software, an entire broadcast studio can be hosted on a single computer.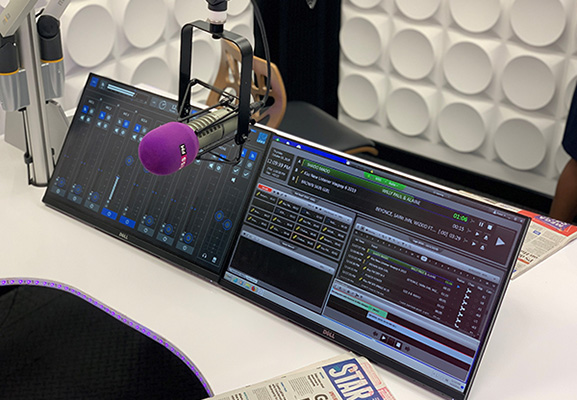 "We are always looking for the right technology for our group, and here we found something very clever," says Radio Africa Group's Head of Innovation, Kamal Vekaria. "Using the Lawo RƎLAY concept, we created a workflow that will serve us far into the future and adapt to the changing expectations of radio listeners."
For KISS FM's new studios, an elegant, timeless design was chosen, built around a Lawo RƎLAY virtual mixing console. Easy-to-use workflows make use of RƎLAY's instantly familiar touch screen controls, presented on a large multitouch display. All PC sources and outputs utilize AES67, the broadcast standard for AoIP transport; a Lawo A__line AoIP node translates microphones and other line-level sources to AES67, which are then available to the virtual mixer via Ethernet and a network switch.
RƎLAY's built-in, sophisticated audio shaping tools also give operators individual adjustment of all microphone parameters — such as compression, expansion, customized voice EQ, and unique Lawo Automix and Autogain features. And since RƎLAY uses standard AES67 networking, Radio Africa's systems can be expanded to easily add more PCs and sources as their operational requirements change.
"With Lawo RƎLAY, KISS FM is one of the most advanced radio stations in Kenya," says Vekaria. "We know that whatever the future of radio brings, we will be ready to meet it head-on."
 
About Lawo
Lawo designs and manufactures pioneering network, control, audio and video technology for broadcast and post production, as well as live performance and theatrical applications. Products include control and monitoring systems, digital audio mixing consoles, routers, video processing tools as well as solutions for IP-based A/V infrastructures and routing systems. All products are developed in Germany and manufactured according to highest quality standards at the company's headquarters in the Rhine valley town of Rastatt, Germany. For additional information, please visit www.lawo.com.
Related Content
Based on your recent activity and preferences we recommend the following pieces of content