Jade Kurian Receives Women in Technology Futurist Award
In a recent virtual presentation, Jade Kurian, president and co-founder of latakoo, a leading developer of software solutions for the broadcast production industry, was honoured with the prestigious Women in Technology Futurist Award. The award was presented at TVNewsCheck's tenth annual Women in Technology Leadership Awards ceremony and reception. The award recognises that Jade Kurian epitomises the quality of taking a long-range view of where the television industry should be moving and figuring out how to get it there.
The Women in Technology Futurist Award celebrates women who have pioneered new technologies or who, although not working in the sciences, have significantly influenced the development of media industry technology. The award supports the National Association of Broadcasters Education Foundation's Technology Apprenticeship Program, which provides training and industry internships to graduating engineers who are women or people of colour.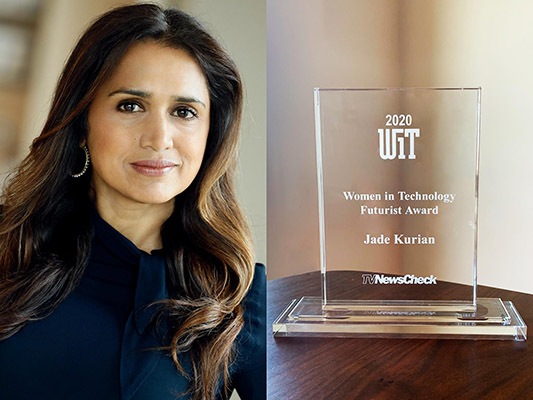 Jade's multifaceted experience spans the entire gamut of broadcasting, including management, communications, and technology. She has a comprehensive understanding of video workflows from codecs and formats to editing and transfers. Jade has managed news staff, coordinated crews while travelling the world, run operations, scheduled teams and managed budgets. Her experience encompasses the ground-up building, management and launch of a news bureau for a US national network.
TVNewsCheck co-founder and publisher Kathy Haley said: "Jade Kurian's pioneering end-to-end workflow solution enabling users to quickly, easily and securely move video files from anywhere to anywhere, regardless of file size or internet connection, has fundamentally changed the options available to broadcasters challenged with a need to produce far more content far more efficiently".
On accepting the award Jade Kurian said "I am humbled and honoured to receive this award that salutes, encourages and emboldens women working in technology. While I believe that individuals can singularly impact change, there is no substitute for a great team and I am the beneficiary of the excellence of our team. They are among the smartest and best people who show exemplary commitment to offer the best solution to our clients every day".
ABOUT latakoo
Founded in 2010 by two award winning journalists for journalists, latakoo is the fastest, easiest way to transfer video files from anywhere to anywhere. The company enables professional broadcasters and production companies to automate delivery of video content to different asset managers, digital platforms, and ingest or play-out servers seamlessly. The latakoo solution is used by some of the world's leading broadcasters, including Nexstar. The company is based in Austin, Texas.
The latakoo platform is Avid Platform Certified, and an Avid Alliance Partner. The system is additionally integrated into asset managers made by Dalet, Grass Valley and bitcentral.
Further information can be found at www.latakoo.com.
Search For More Content