Lawo Debuts World's First AES67 Stream Monitoring Software
Thu 22, 08 2019
Broadcasters using the AES67 AoIP standard in their studios and production facilities finally have an easy way to keep themselves informed about the state of their program streams: Lawo AES67 Stream Monitor, a new software product for Windows® PCs debuting at IBC 2019.
"Radio professionals have embraced AoIP. The majority of new facilities are based upon IP technology," says Lawo Radio Marketing specialist Clark Novak. "Broadcasters are also vocal about their support for the AES67 standard. But they've had no easy way to inspect and monitor critical audio streams. AES67 Stream Monitor addresses this issue and fills their need."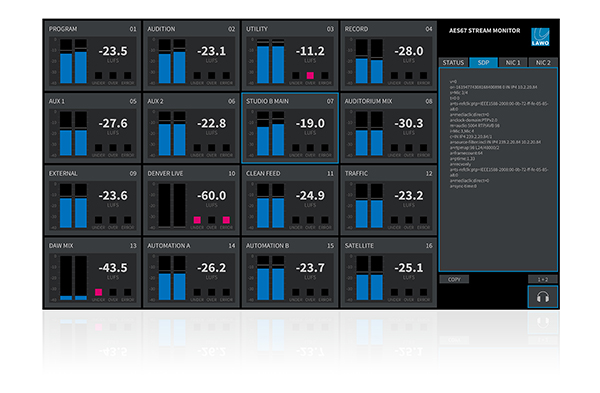 AES67 Stream Monitor displays detailed information for as many as 16 user-definable audio streams, each of which can contain multiple audio channels. The main display presents audio levels and alarm indications at a glance for all monitored streams; selecting an individual stream display allows users to do a "deep dive" to discover detailed stream information. Functions include:
The ability to audition AES67 streams on-demand using the PC sound card.
Monitoring of two Ethernet NICs simultaneously for true ST2022-7 compatibility.
A Stream Health Monitor that keeps track of jitter, dropped packets and data errors.
LUFS metering with detailed tracking of Loudness Units over time.
Alarms for silence-sensing, under-level or over-level alerts, with user-definable thresholds.
SDP interrogation of each monitored stream, with information copyable to clipboard for documentation purposes or for use with other applications.
Per-stream Status Window with display of audio level content over time, errors over time, and file-based error report – ideal for keeping informed about deviation from loudness compliance for outgoing streams.
AES67 Stream Monitor is intelligent, informative and easy to use — a perfect diagnostics tool for any engineer, installer or integrator who works with AES67 networks, or as a Master Control tool for tracking stream health and loudness compliance over time. The program runs on standard Windows® 10 PCs, and is VMWare compatible, allowing multi-instance deployment on virtual machines to facilitate high-density stream information.
Visitors can see AES67 Stream Monitor, along with the entire line of advanced Lawo radio, TV and live-sound products, at IBC 2019, 13-17 September, at the RAI Center in Amsterdam, Stand #8.B50.
About Lawo
Lawo designs and manufactures pioneering network, control, audio and video technology for broadcast and post production, as well as live performance and theatrical applications, developed in Germany and manufactured according to highest quality standards at the company's headquarters in the Rhine valley town of Rastatt, Germany. Lawo's line of physical and virtual radio solutions include ruby, sapphire, sapphire compact and crystal mixing surfaces, the Power Core mixing engine, crystal CLEAR and RƎLAY Virtual Radio Mixers, and advanced VisTool GUI-builder software, all designed to provide more capability for less cost. For details, visit www.lawo.com.
Related Content
Based on your recent activity and preferences we recommend the following pieces of content