Lawo mc² Consoles for the Live and Broadcast Mixes of Martin Grubinger's 'Percussive Planet Ensemble' at the Mariendom in Linz
Fri 04, 10 2019
For the fourth year in a row, Austrian multi-percussionist Martin Grubinger and his "Percussive Planet Ensemble", supported by the St. Florianer Sängerknaben boys' choir, performed outside Linz Cathedral (Austria) during the annual classical concert series ("Klassik am Dom"). Both outside and inside the cathedral, Grubinger, the professor of Percussion at the Mozarteum University in Salzburg, and his ensemble displayed a sonic firework with a combination of pop and classical music spanning the rich history of music. In addition to the audience on site, thousands of listeners followed the performance on TV, courtesy of a live broadcast by Austria's public station ORF2. Lawo mc² mixing consoles were used for both the FOH mix and the audio mix for the telecast.
The 20 musicians of the "Percussive Planet Ensemble" – nine horns, bass, guitar, drums, keyboard, piano, five percussionists and Grubinger himself – used 80 channels, which were connected via a Lawo stagebox to a 40-fader mc²36 as the FOH console and to an mc²66 in the TVN OB truck. For this purpose, the instruments, picked up mainly with Schoeps microphones, were connected to a DALLIS rack with 96 inputs as well as 16 analog and 16 AES outputs using 150m of fiber cabling. Inside the cathedral, 30 channels were used for the performance by the children's choir and a smaller version of the "Percussive Planet Ensemble". The related microphones were connected to a Lawo Compact I/O stagebox. The mc²36 console was connected via RAVENNA and two MADI lines in one-to-one signal patch-through fashion. The monitor split went via Rmio MADI/Dante converters to a Yamaha mixer and to the mc²66 in TVN's OB truck.
"These kinds of mixes require an extremely high resolution and the cleanest possible signal paths inside the mixer as well as Schoeps microphones for maximum transparency. As far as capturing the dynamics of this ensemble is concerned, Lawo consoles win hands down," says David Horn, who not only provided the Lawo mc²36 and other equipment as a rental contractor, but also acted as sound engineer at the Linz concert. He stood in for Martin Grubinger's regular sound engineer, Till Helfrich, who had specified the Lawo mc²36 for this spectacular tour.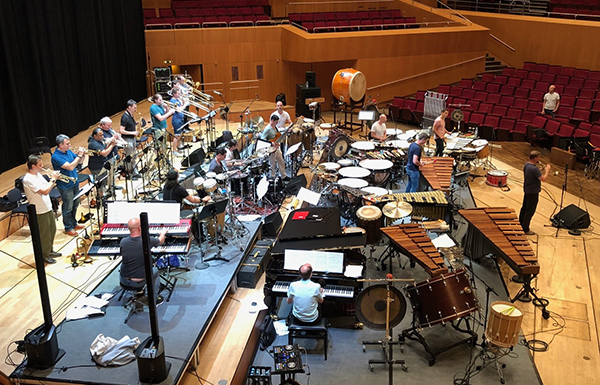 "Performances by Martin Grubinger and his 'Percussive Planet Ensemble' are always spectacular in several respects. On the one hand, there is the enthusiasm for playful perfection on stage. On the other, the versatility of percussion instruments is second to none. Last season we learned that a performance can involve up to 500 different percussion instruments. This not only requires large stages, but also flexible and powerful technology," explains Till Helfrich.
There are several "instrument islands" on stage, which are played alternately, depending on the composition. It also happens regularly that musicians switch from one position to another during a piece, sometimes even repeatedly.
"Grubinger and the Percussive Planet Ensemble attach great importance, both musically and technically, to the highest degree of precision and dynamics. For sound reinforcement, this means that a high-quality signal chain, from the microphones to the mixing console, to the loudspeakers, is necessary to reproduce the sometimes delicate sound events on stage," says Till Helfrich. "If you wanted to mike up each drum individually, you would need hundreds of microphones. That would be unmanageable for a sound engineer. If, as with classical orchestras, a stereo pair or a number of overhead microphones were used, the sound image would become too "roomy". We try to find the best possible compromise between direct and spot microphones. We often use between 85 and 120 microphones on stage." Leaving all channels open all the time would result in a rather spatial sound. I take great care to mute all channels that are not in use at any given moment. This requires a mixing console with fast access options capable of providing at-a-glance information about the number of microphones in use," explains Helfrich.
The Linz-based company M3 "Veranstaltungstechnik" provided the high-quality sound for the event. Daniel Mateijka from ZDF oversaw the sound production in the TVN OB truck in a capacity of music recording manager. The mc²66 audio production console installed in the TVN OB truck for the recording and broadcast of the concert was operated by Georg Burdicek from Vienna, who is famous for his classical recordings. The production concept was developed in close collaboration with production manager Martin Wessel from Hamburg-based concert- and tour management company backlight! in Hamburg.
Martin Grubinger later presented his "Ultimate Percussion Show" at an event on 16 August 2019 as part of the "Kieler Woche", originally a sailing regatta event with a cultural side program. There again, Grubinger displayed the formidable range of percussion instruments and celebrated a furious percussion party with his musicians and the audience. Once again, the performance relied on a Lawo mc²36 console operated by a highly satisfied Till Helfrich.
About Lawo
Lawo designs and manufactures pioneering network, control, audio and video technology for broadcast and post production, as well as live performance and theatrical applications. Products include control and monitoring systems, digital audio mixing consoles, routers, video processing tools as well as solutions for IP-based A/V infrastructures and routing systems. All products are developed in Germany and manufactured according to highest quality standards at the company's headquarters in the Rhine valley town of Rastatt, Germany. For additional information, please visit www.lawo.com.
Related Content
Based on your recent activity and preferences we recommend the following pieces of content