Lawo Power CoreRP Audio Remote Production Node Ready to Ship
Tue 16, 04 2019
Lawo showcased its portfolio of flexible Remote Production tools live at NAB 2019 – and announced that its Power CoreRP Audio DSP & I/O Node is ready to ship. Power CoreRP is a powerful 1RU device, featuring high-density AoIP and MADI I/O, eight modular I/O expansion slots, 64 DSP channels, IP streaming via WAN or LAN, and network-link redundancy via SMPTE 2022-7 Seamless Protection Switching. Its Class-C jitter/network latency robustness eliminates the need for dedicated 3rd-party WAN gateways, drastically simplifying remote setups.
Although it's 1RU form factor is small, Power CoreRP stands tall thanks to its wide array of possible audio connections. Dual-redundant 1GbE SFP ports for AoIP and one MADI port (with redundancy option) are standard; the eight rear-panel modular I/O slots can be filled with any combination of Mic, Line or AES3 cards. A studio card with Mic/Line I/O plus two headphone outputs is also available.
DSP capabilities are also huge, with 64 processing channels — perfect for low-latency on-site monitor and IFB mixing. mc² consoles can directly control DSP channels, and can also control up to 64 input channels and 16 Aux busses. Even remote channels can be mapped to console fader strips for full control of Mute, EQ, Filters, Dynamics and Delay, and remote inputs and Auxes from Power CoreRP can even be linked to a host console's local DSP channels to ensure continuous linking of parameter values. Remote lockout of any kind of on-site operation can also be accomplished right from the host console.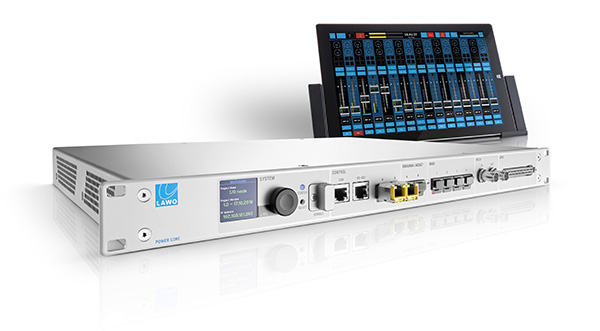 Power CoreRP can also be directly controlled without a console, using graphical touch-screen control based on Lawo's VisTool GUI-builder software. This unique interface provides on-site as well as remote access to all parameters, which allows users to pre-define setup configurations even before the software is connected to a host console. The remote-control feature set includes a sophisticated test mode and lineup patterns, and the ability to remotely monitor the control connection to the host console, the on-air status, Sync, monitoring of Listen and PFL channels, and even a local talkback system with control of DIM levels for talent's earpieces.
Like all Lawo products, Power CoreRP is fully standards-based, incorporating the ST2110-30/-31, AES67 and RAVENNA AoIP standards, as well as ST2022-7 network-link redundancy to help ensure uptime in mission-critical environments.
All this power in only 1RU makes Power CoreRP the ideal remote production solution for Lawo mc² audio consoles — and also for Lawo's video contribution solution, V__remote4, which provides WAN-capable bi-directional signal transport for 4K/3G/HD/SD-SDI video.
To find out more about Power CoreRP and the complete line of Lawo audio I/O devices, visit www.lawo.com/products/audio-interfaces.html .
About Lawo
Lawo designs and manufactures pioneering network, control, audio and video technology for broadcast and post production, as well as live performance and theatrical applications. Products include control and monitoring systems, digital audio mixing consoles, routers, video processing tools as well as solutions for IP-based A/V infrastructures and routing systems. All products are developed in Germany and manufactured according to highest quality standards at the company's headquarters in the Rhine valley town of Rastatt, Germany. For additional information, please visit www.lawo.com.
Related Content
Based on your recent activity and preferences we recommend the following pieces of content