Accompanying images show the Leader LV5600 and LV7600.
Leader Electronics announces two new 25 GbE options for the LV5600 portable broadcast-quality waveform monitor and its LV7600 rasterising equivalent.
Option LV5600-SER06/LV7600-SER06 is a 25 GbE single-mode video-over-IP / multi-mode fibre IP interface which provides full conformance with the SMPTE 2110 standard for transmitting 4K content in a non-compressed format via Ethernet at up to 25 gigabits per second. SMPTE ST 2022-6, SMPTE ST 2110-20/-30/-40 IP standards are fully supported as well as SMPTE ST 2022-7 redundancy and SMPTE ST 2059 PTP synchronisation. IP single stream mode, similar to 12G-SDI, allows a UHDTV uncompressed stream to be received. IP quad stream mode allows a UHD TV signal to be received as four uncompressed streams, similar to 4x 3G-SDI. Measurement features include IP status display, IP packet jitter display, PTP status display, SFP module display, IP event log display, path delay display and timing display. Video signal formats handled include 10 bit YCbCr 4:2:2 in all common HD standards as well as 3840 x 2160 pixel UHD at 47.95 through to 60 frames per second.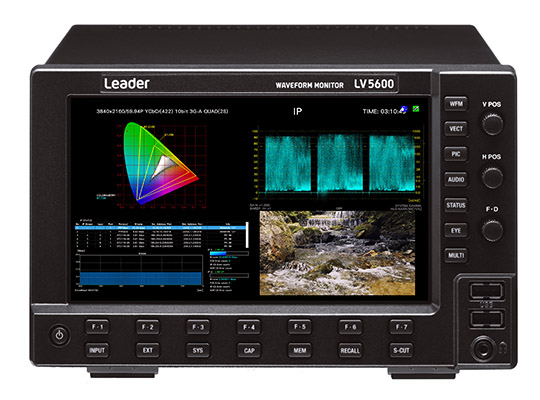 Option LV5600-SER32/LV7600-SER32 is an IP test pattern generator. This can generate HD and 3840 × 2160 UHD test signals for delivery via SMPTE ST 2110-20 / 30/31/40 IP. IP channel stress testing can be performed by adding jitter and errors to IP packets. A network synchronisation mode allows PTP-synchronised video and audio test signals to be generated.
Both options will be introduced to the European market at the September 13th-17th IBC show in Amsterdam where Leader will be exhibiting on stand 11.A33.
Leader's LV5600 is a mains-powered SDI/IP waveform monitor in a half-rack width 3U desktop chassis with a touch-screen front panel display. It provides all the facilities needed to monitor UHD/HD/SD SDI as well as video over IP signals seamlessly in a hybrid operating environment. Engineering-related features include test pattern generation, eye pattern display, closed-caption monitoring, CIE colour chart, high dynamic range measurement, focus assist, customisable screen layout, tally interface, 4K/UHD operation, 10G IP input and 12G-SDI interfaces. SMPTE 2022-6, SMPTE 2022-7 and SMPTE 2110 protocols are all supported. The LV5600 also incorporates Leader's intuitive Cinezone and Cinelite which are familiar to many content production staff.
The LV7600 rasterising waveform monitor offers the same capabilities as the LV5600 but in a low-profile 19 inch 1U form-factor for easy rack or desk mounting.
ABOUT LEADER ELECTRONICS CORPORATION
Leader Electronics Corporation has earned a worldwide reputation for designing and manufacturing highly reliable, practical and cost effective test and measurement instruments. Leader products are specified for research, development, broadcast, production and service applications. Manufacturing quality is built in every step of the way. Less than 0.1% of all Leader products made are ever returned for warranty repair or adjustment.
The Leader product range includes award-winning 3G/HD/SD SDI waveform monitors and rasterising test instruments with customisable layout. Among available options are 4K/UHD, CIE colour chart, HDR measurement, test pattern generation, eye and jitter measurement and closed caption display, IP and 12G SDI. Leader has helped many customers manage their transition from analog to digital, from SD to HD, from HD to 4K/UHD, from SDR to HDR and from BT.709 to BT.2020 wide colour gamut. Leader also provides dependable support for the transition from SDI to IP.
For more information see www.leader.co.jp/en
Search For More Content