Leader Electronics has added a function in the ZEN series waveform monitors and rasterizers LV5600/LV7600/LV5350/LV5300/LV7300 to decode and display the "SR Live Metadata" packet advocated by Sony Imaging Products & Solutions Inc ("Sony"). "SR Live for HDR" is an important production workflow when broadcast content is moving from HD SDR to 4K HDR or HD HDR, because "SR Live for HDR" allows 4K HDR and HD SDR simultaneous video production following to the HD SDR live production environment which is the current mainstream.
The "SR Live Metadata" is embedded into the SDI signal based on SMPTE ST 291-1 "Ancillary Data Packet and Space Formatting", and the following information can now be decoded and displayed on the ZEN series:
Table Version, OETF, Transfer Matrix, Color Gamut, Conversion Mode, HDR Look, HDR Black Compression, SDR Gain, Master Black, HDR Black Offset, Gamma Table, Gamma Step, Gamma Level, Knee, Knee Point, Knee Slope, Knee Saturation, Knee Saturation Level, Soft Knee, Knee Radius, SDR White Clip, SDR White Clip Level, HDR Knee, HDR Knee Point, HDR Knee Slope.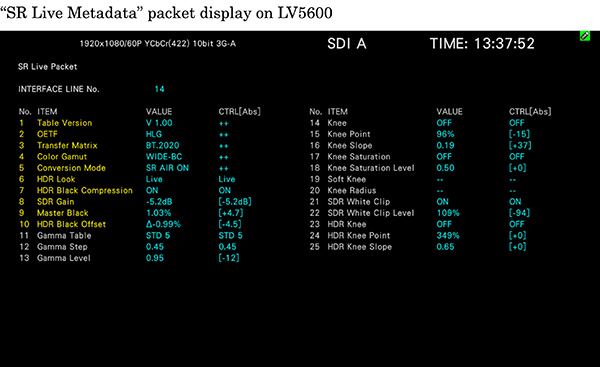 This function is now available as a standard function on all ZEN series waveform monitors and rasterizers. For previously purchased products, users can install this function by updating to the latest firmware free of charge.
Leader Electronics supports this "SR Live Metadata" function to enable efficient content production.
"SR Live for HDR" is the solution which enables simultaneous HDR / SDR video production, proposed by Sony Imaging Products and Solutions Inc.
About Leader Electronics Corporation
Leader Electronics Corporation has earned a worldwide reputation for designing and manufacturing highly reliable, practical and cost effective test and measurement instruments. Leader products are specified for research, development, broadcast, production and service applications. Manufacturing quality is built in every step of the way. Less than 0.1% of all Leader products made are ever returned for warranty repair or adjustment.
The Leader product range includes award-winning 3G/HD/SD SDI waveform monitors and rasterising test instruments with customisable layout. Among available options are 4K/UHD, CIE colour chart, HDR measurement, test pattern generation, eye and jitter measurement and closed caption display, IP and 12G SDI. Leader has helped many customers manage their transition from analog to digital, from SD to HD, from HD to 4K/UHD, from SDR to HDR and from BT.709 to BT.2020 wide colour gamut. Leader also provides dependable support for the transition from SDI to IP.

For more information see www.leader.co.jp/en
Search For More Content