Leader Electronics (www.leader.co.jp/en) will demonstrate remote production and high dynamic range measurement applications of its LV5600 video waveform monitor on stand 200 with distribution partner Jigsaw24 at the June 11th to 12th Media Production Show in London's Olympia exhibition centre.
"A key focus of the demonstration will be the LV5600's ability to monitor and analyse the signal flow from remotely located devices in locations such as data centres," says Leader Europe Business Development Manager Kevin Salvidge. "Production companies are increasingly exploring the centralisation of test and measurement equipment to allow signal monitoring via high-speed data networks. The LV5600 with its 25GbE interface is ideal for supporting productions from HD/SDR to UHDTV/HDR remotely."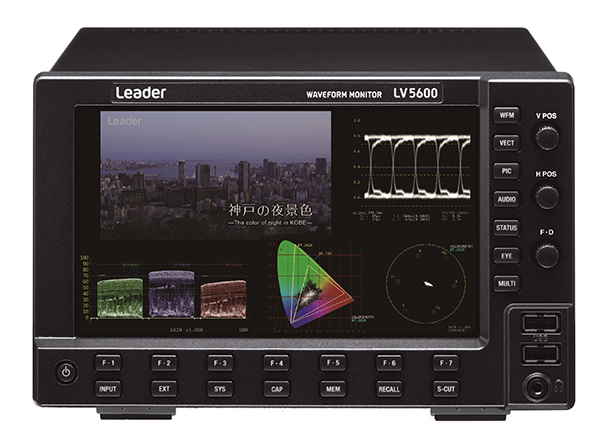 "As well as remote operation, the LV5600 will form part of a Jigsaw24 HDR production workflow demonstration. HDR requires special care all the way from source acquisition through to transmission, ensuring that the added realism it can provide is not compromised during intermediate phases such as post-production. The LV5600 enables operators to check key parameters at every point in the workflow so that any falloff in signal quality can be identified before the alarm bells starting ringing."
Leader's LV5600 is a mains-powered SDI/IP waveform monitor in a compact half-rack width 3U desktop chassis with a touch-screen front panel display. It provides all the facilities needed to monitor UHD/HD/SD SDI as well as video over IP signals seamlessly in a hybrid operating environment. The instrument provides a broad set of engineering-related features including test pattern generation, eye pattern display, closed-caption monitoring, CIE colour chart, high dynamic range measurement, focus assist, customisable screen layout, tally interface, 4K/UHD operation, 10G IP input and 12G-SDI interfaces. SMPTE 2022-6, SMPTE 2022-7 and the recently published SMPTE 2110 protocols are all supported. The LV5600 also incorporates Leader's intuitive Cinezone and Cinelite which are familiar to many content production staff.
The LV5600 can be configured from a selection of interface and software-based options, enabling customers to specify the capabilities needed for their current requirements. Among the options are closed caption measurement, CIE chart display, HDR, 4K, 12G-SDI and 25G IP signal generation, ID/iris/tally display,. IP-specific features include the ability to monitor transmission errors such as packet loss and packet jitter, and to simultaneously measure and display SDI and IP signal sources. A recent introduction is the LV5600-SER30/LV7600-SER30 option which is designed for camera noise measurement. This displays the video noise included in the luminance channel or RGB components of an SDI source.
The LV7600 rasteriser offers exactly the same capabilities as the LV5600 but in a low-profile 19 inch 1U form-factor for easy rack or desk mounting.
About Leader Electronics Corporation
Leader Electronics Corporation has earned a worldwide reputation for designing and manufacturing highly reliable, practical and cost effective test and measurement instruments. Leader products are specified for research, development, broadcast, production and service applications. Manufacturing quality is built in every step of the way. Less than 0.1% of all Leader products made are ever returned for warranty repair or adjustment.
The Leader product range includes award-winning 3G/HD/SD SDI waveform monitors and rasterising test instruments with customisable layout. Among available options are 4K/UHD, CIE colour chart, HDR measurement, test pattern generation, eye and jitter measurement and closed caption display, IP and 12G SDI. Leader has helped many customers manage their transition from analog to digital, from SD to HD, from HD to 4K/UHD, from SDR to HDR and from BT.709 to BT.2020 wide colour gamut. Leader also provides dependable support for the transition from SDI to IP.
For more information see www.leader.co.jp/en
Search For More Content