Accompanying image shows the new Leader LV9500 8K waveform monitor.
Leader Electronics (www.leader.co.jp/en), a globally active producer of high-grade test and measurement solutions, will introduce at the 2019 NAB Show a range of new products and options meeting the increasing demand for video-over-IP and higher image quality.
Leader's new LV5900 8K waveform monitor is designed for content producers, broadcasters and equipment manufacturers progressing into the Super Hi-Vision standard. The LV5900 provides full support for SMPTE ST2082-12 in 8192 × 4320 and 7680 × 4320 resolution plus 12G-SDI quad link. The instrument's feature set includes 8K color bar and test pattern generation as well as four-input simultaneous display of HD video from HD to 3G-SDI and 4K video. The audio interface is compatible with MADI.
A new 8K option for the Leader LT4610 sync generator will be introduced. The LT4610SER24 provides 12G-SDI 8K pattern generation when integrated with the established LT4610SER02 expansion option.
Leader's LV5600-SER06 is a new 4K-IP-compatible option for the LV5600 waveform monitor. Option LV7600-SER06 is its equivalent for the LV7600 rasterizer. Both options provide full conformance with the SMPTE 2110 standard for transmitting 4K content in a non-compressed format at up to 25 gigabits per second. ST 2110-20 audio, ST2110-40 auxiliary data and ST2059 PTP sync specifications are all fully supported.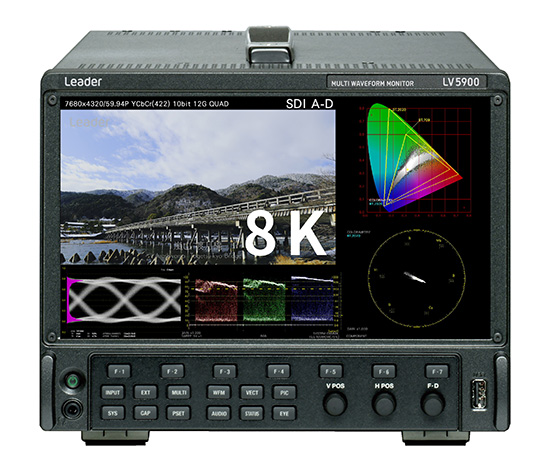 New for the LV5600 and LV7600 is the LV5600-SER32/LV7600-SER32 25G IP test signal generator option. Supporting transmission standards of IP corresponding to SMPTE ST 2110-20/30/31 and /40, the video signal can generate test patterns of HD through to UHDTV (3840 x 2160). Stress testing of network infrastructure is possible by the addition of packet errors and packet jitter.
Also being introduced for the LV5600 waveform monitor and LV7600 rasterizer is the LV5600-SER30/LV7600-SER30 option. This is designed for camera noise measurement, displaying the video noise included in the luminance channel or RGB components of an SDI source.
With these new introductions, Leader is now ready to help customers manage their transition both from SDI to IP and from 4K to 8K.
About Leader Electronics Corporation
Leader Electronics Corporation has earned a worldwide reputation for designing and manufacturing highly reliable, practical and cost effective test and measurement instruments. Leader products are specified for research, development, broadcast, production and service applications. Manufacturing quality is built in every step of the way. Less than 0.1% of all Leader products made are ever returned for warranty repair or adjustment.
The Leader product range includes award-winning 3G/HD/SD SDI waveform monitors and rasterising test instruments with customisable layout. Among available options are 4K/UHD, CIE colour chart, HDR measurement, test pattern generation, eye and jitter measurement and closed caption display, IP and 12G SDI. Leader has helped many customers manage their transition from analog to digital, from SD to HD, from HD to 4K/UHD, from SDR to HDR and from BT.709 to BT.2020 wide colour gamut. Leader also provides dependable support for the transition from SDI to IP.
For more information please visit www.leader.co.jp/en
Search For More Content