Legend 3D Adds ELEMENTS ONE to Empower Stereo Conversion
Wed 03, 04 2019
High-end post-production facility adopts all-in-one media storage appliance to improve collaboration
Los Angeles, CA, Apr 2, 2019: ELEMENTS, developer of advanced solutions for unrestricted collaboration in shared media workflows, has announced that high-end post-production studio Legend 3D, specialists in 3D, visual effects (VFX), and virtual reality (VR) projects, recently added an ELEMENTS ONE 60 bay unit to its workflow. In need of a solution capable of handling a 4K stereo pipeline, Legend 3D had the all-in-one high-performance appliance installed at the heart of the Stereo Conversion and 3D department, ensuring seamless collaboration across several Mistika workstations.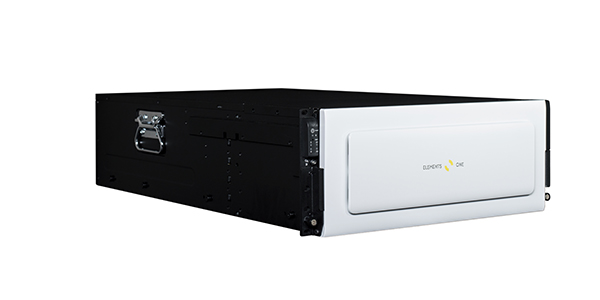 Headquartered in Los Angeles, CA, with facilities in Pune, India, and Luoyang, China, the team of 700+ award-winning artists provides full-scale VFX creative, production, and post-production services for major brands, studios, and agencies, with projects that include film box office successes and franchises such as Captain Marvel, The Meg, A Wrinkle in Time, The Avengers, and Pirates of the Caribbean.
"We're proud of our reputation for providing clients with innovative visual effects and Stereoscopic 3D conversion services that utilize market-leading technology," said Meetal Gokul, Legend's Director of Post Production and Senior Colorist. "When we were looking to upgrade our infrastructure, ELEMENTS' solution provided an outstanding price/performance ratio and adapted perfectly to our workflow requirements."
Legend 3D is extending its business to enhanced post-production services including digital intermediates and color grading at 4K HDR. Hence, they decided to add a JBOD expansion to ELEMENTS ONE immediately, providing them with more than four times as much storage capacity than before.
"ELEMENTS ONE will be an integral part of our high-end post-production workflow," adds Gokul, "allowing us to collaborate more efficiently than ever before."
"We are thrilled to include a world-renowned player like Legend 3D to our family of customers in the U.S." said Eric Thorne, VP Sales at ELEMENTS. "By choosing to enhance their infrastructure with ELEMENTS' unique solutions, Legend 3D proves once more that they are ahead of the game."
ABOUT ELEMENTS
ELEMENTS, developer of the award-winning all-in-one media server and storage solution ELEMENTS ONE, provides high-performance hardware and software solutions for the post production and broadcast industry. Originally a supplier of high-end turnkey solutions and support for the post- production and broadcast industry, the German solution designers and system engineers leveraged their vast knowledge and expertise in the post-production and broadcast industry to develop ELEMENTS, a line of dedicated products specifically designed to meet the high demands of workflows sharing media. Besides being extremely efficient and delivering excellent performance, ELEMENTS' StorNext-based products provide a truly unique benefit: native project and media sharing capabilities, including AVID Media Composer, Adobe Premiere, Apple Final Cut Pro, and other non-linear editing and VFX applications. Equipped with an all-embracing package of exceptionally easy and intuitive management and workflow enhancement tools, ELEMENTS contributes to significantly simplified and increased collaboration and streamlined workflow processes. With almost 15 years of experience incorporated into the products, ELEMENTS has earned a reputation as a provider of exceptionally customer-favorable solutions that deliver high-performance while being easily maintained and managed while virtually requiring no IT skills.
ELEMENTS HQ: Parkstrasse 31, 40477 Dusseldorf, Germany. t: +49-211-749-5350
ELEMENTS US: 7083 Hollywood Blvd, Los Angeles, CA 90028, USA. t: +1-818-876-5850
Related Content
Based on your recent activity and preferences we recommend the following pieces of content