Cerberus Tech Ltd has launched the new version of its Livelink SaaS live delivery platform, which allows users to self-manage live feeds from any location.
Livelink is a robust IP delivery solution for transporting live linear and OTT content from point to single-point or multi-point. It allows users to self-manage their live content for delivery to any destination worldwide by utilizing cloud environments available in every region. Livelink is cloud agnostic and compatible with any transport protocol including Zixi, RIST, SRT, HLS and RTMP.
Livelink's expand on demand infrastructure ensures that teams can quickly scale their requirements within minutes. This flexible approach enables stakeholders managing live broadcasts and events to adapt to changing circumstances. Livelink does not rely on traditional infrastructure which makes it extremely cost-effective. Its intuitive self-service interface enables users to easily transport, manage and extract value from live content. The platform integrates rights management, automatic booking updates and customisable monitoring and alerts so that customers retain control of all aspects of delivery.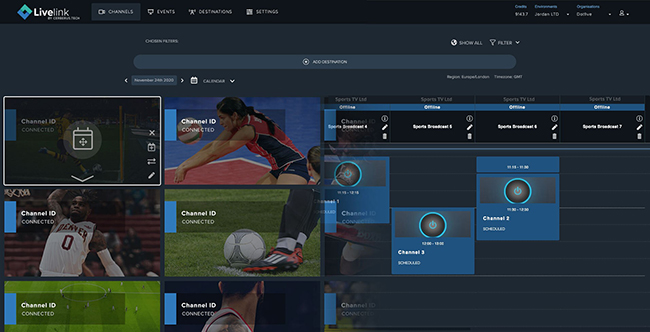 Livelink offers broadcasters the ability to deploy and deliver live feeds with minimal on-site presence. The platform offers global reach and is the ideal solution to reduce live event overheads and also supports current social distancing measures which the broadcasting industry has implemented. The self-management interface monitors availability, routing and scheduling for all feeds, as well as tracking cloud environment costs. Cerberus Tech can fulfil hardware requirements, direct to the end user if required. However, in many instances no additional hardware is required for set-up, just an internet connection.
Chris Clarke, CEO, Cerberus, comments, "The return to live sports events and the backlog of matches has meant that the existing infrastructure is struggling to keep up with demand and event concurrency. Livelink enables broadcasters and production companies to be the architects of their own environment, delivering feeds extremely cost-effectively and with very quick set-up times. With the situation changing week to week, Livelink offers a pay-as-you-go, adaptive solution that broadcasters can rely on."
For more information about Cerberus Tech and its services please visit www.cerberus.tech or contact the team directly at info@cerberus.tech
The latest version of Livelink was developed with funding from Innovate UK.
About Cerberus Tech
Cerberus Tech Ltd operates a truly global IP video delivery network, leveraging the very latest in technology to deliver content anywhere in the world. For 'always on' managed services, Network 1 is their proven platform for primary distribution and customers, from public service broadcasters to global media giants, are increasingly utilising their global connectivity to transport linear video content. For live content and occasional use, Livelink is the ideal IP cloud teleport solution for moving content from source to destination without reliance on expensive, traditional, satellite and fibre infrastructure. IO is its point to point, or point to multipoint, broadcast delivery software tool developed using the power of docker and utilising industry-standard IP delivery methods for secure, reliable, open delivery including RIST and SRT. Whether it is the transmission of live sports, events or 24/7 managed services, Cerberus Tech's vast expertise and commitment to cost-effective, reliable and future-proof solutions means that customers are in safe hands.
Search For More Content