M2A Media launches M2A Connect leveraging AWS Elemental
Mon 18, 05 2020
Challenging established broadcast distribution paradigms, M2A CONNECT revolutionises the distribution of live video to headends offering a flexible and cost-effective alternative to satellite and fibre.
London, 18 May 2020: M2A Media, leading innovators in cloud-based video solutions, today announced the launch of M2A CONNECT, a new product that offers an easy-to-use console for live video owners to schedule and automate the global delivery of live feeds using AWS Elemental live video transport solutions from Amazon Web Services (AWS). M2A CONNECT''s user friendly console and API offers subscription management, automated event scheduling, bulk entitlements, event-based feed transformations, monitoring and reporting, making live video distribution more flexible, efficient and economical than ever before.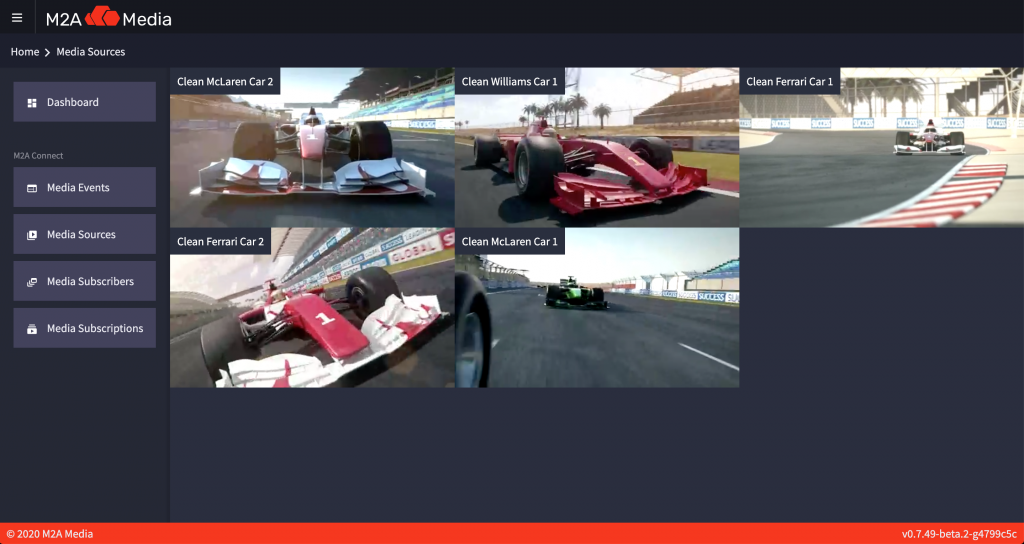 M2A CONNECT allows broadcasters and sports-rights owners to easily manage the presentation, routing and global distribution of their live video sources on an event basis through public cloud infrastructure, removing human hand-off points and reducing the need for expensive and restricted routing over satellite or point to point networking.
Through integration with AWS Elemental MediaConnect, AWS Elemental MediaLive, and AWS Elemental MediaPackage, M2A CONNECT uses M2A's state of the art console with its user friendly web GUI and API allowing broadcasters and rights holders who subscribe to the product to; manage their live source, schedule events, add subscribers and bulk entitlements, monitor live streams, create live event workflows and deliver live streams across multiple regions and receivers.
M2A CONNECT is also available as a managed service, delivering the peace of mind that comes with M2A Operations' best-in-class 24/7 support. Setting up and securing events, enabling last-minute changes and eyes-on-glass monitoring assure faultless end to end transmission.
Marina Kalkanis, CEO at M2A Media said: "IP over cloud is the future of live video distribution between rights owners and broadcasters and we are hugely excited to be launching this new game-changing product, leveraging AWS Elemental. With M2A CONNECT, broadcasters and rights holders will benefit from all the efficiency of AWS Elemental Media Services via a simple, intuitive console – backed up with the reassurance of a 24/7 eyes-on-glass support."
M2A CONNECT Key Features & Benefits:
Advance scheduling for live events and EPG view of schedules
Console to manage source/destination locations, schedules and source/entitlements
Subscriber setup and management
Subscriber login and self-service to create entitlements
Receipt of multicast traffic at remote video source locations
Ingest into AWS Elemental MediaConnect
Orchestration of video flows based on event schedules
Adapt streams including standards conversion, promo insertion, graphic overlays, etc
Monitoring feeds for M2A and customer operators
Console with multi viewer and aggregated cloudwatch and video metrics monitoring
Alerting on video quality and transport stream metrics
Proxy feeds for subscribers; tokenised and watermarked
API to M2A product stack for OTT ready streams meeting B2B and D2C requirements
Optionally, M2A Operations Service can provide the following key features & benefits:
24/7 MCR monitoring of all live feeds
A designated 24/7 engineer with an allocated 24/7 on-call back-up engineer
ITIL Incident Management – Proactive fault-find and fix across all steps in a live workflow
System Administration – User/password management
Premium Event Support – Bridge calls/Talkback management of high priority events
Migration Support – for clients needing assistance transitioning to an automated service
Weekly reporting
Monthly and quarterly service reports
To learn more about M2A CONNECT visit www.m2amedia.tv/m2a-connect
About M2A Media
M2A Media supports broadcasters and sports rights holders deliver live events at scale. Our API driven cloud-native technology is backed up with 24/7 operational support and mission critical SLAs. For M2A's customers, speed of innovation keeps them at the vanguard of live delivery and optimises the viewer experience. Our progressive engineering and agile approach enables our confident, continuous and rapid development.
Our best-in-class live streaming and VOD services are the chosen products for customers such as DAZN, ITV, Channel 4 and Britbox.
Related Content
Based on your recent activity and preferences we recommend the following pieces of content