M2A Media Launches M2A CONNECT SOURCE SELECTOR
Fri 18, 09 2020
Newly launched M2A CONNECT SOURCE SELECTOR feature allows rights owners to offer broadcast acquisition partners a choice of multiple live video feeds, promoting a greater self-serve experience
M2A Media, leading innovators in cloud-based video solutions, today releases M2A CONNECT SOURCE SELECTOR, the latest feature of its market-leading cloud IP transport service, M2A CONNECT.
M2A CONNECT SOURCE SELECTOR expands the capabilities of the M2A CONNECT product, now giving rights owners the ability to offer broadcasters a greater choice of content on a self-serve basis. The rights owner can dynamically set up subscription options allowing the broadcaster to view and select from a range of available live feeds, while maintaining full control and visibility over what content is ultimately made available.
Launched in May of this year, M2A CONNECT enables broadcasters and rights owners to easily manage and monitor B2B live feed routing, distribution, and acquisition over public cloud. The M2A CONNECT service is underpinned by AWS Elemental live video transport solutions from Amazon Web Services (AWS).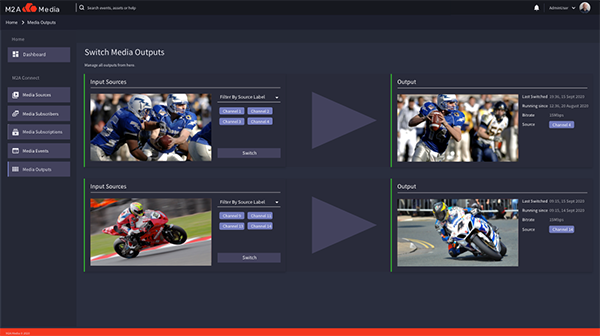 M2A CONNECT SOURCE SELECTOR is of particular value where a rights owner uses M2A CONNECT to distribute multiple video feeds from a live event. Using SOURCE SELECTOR in the M2A CONNECT console, an acquisition partner is now able to view all available feeds and select which to acquire based on secure, pre-defined entitlements, thus giving them greater editorial control during the live broadcast.
Additionally, M2A CONNECT SOURCE SELECTOR streamlines interactions between rights-owners and subscribers, as subscribers are entitled to take direct control when routing feeds into their own infrastructure.
Adoption of M2A CONNECT SOURCE SELECTOR allows rights licensing teams to create dynamic commercial partnerships. With direct access to a flexible supply of live content, broadcasters will get a better service in choosing what content matters most to their viewers at that moment.
M2A CONNECT ensures that the rights owner's content is protected through a robust understanding of commercial rights agreements, building on the product's highly extensible and flexible metadata modelling scheme.
M2A CONNECT SOURCE SELECTOR Key Features & Benefits:
• Select and filter incoming sources
• View near real time proxies
• Route selected sources to static handoff points
• Switch sources to slate
• Schedule and automate source switching around events
• Option to instantly revoke access to content
• Fast and efficient on-boarding of new subscribers
Marina Kalkanis, CEO at M2A Media said: "The positive reaction to M2A CONNECT when it launched this May demonstrated how IP over cloud really is the future for live video distribution. Our latest product feature, M2A CONNECT SOURCE SELECTOR, evolves the product even further, meeting the demands of pioneering rights owners and broadcasters looking to push boundaries of technological innovation to grow their brand and customer service."
To learn more about M2A CONNECT visit www.m2amedia.tv/m2a-connect
About M2A Media
M2A Media is a cloud media services company with software engineering at its core. We help rights owners and broadcasters distribute their live and on-demand video. Our approach is to build innovative software tooling on top of AWS Elemental Media Services enabling efficient operational delivery.
We're all about embracing the power of the cloud for video distribution and cost-effective, flexible workflows. We have that rare mix of savvy software engineering and bullet-proof operational support. It is this combined expertise that places us at the forefront of innovation in cloud-based video delivery. Our products; M2A CONNECT, M2A LIVE, M2A VOD and M2A CAPTURE are trusted by global broadcasters and sports rights owners including DAZN, BritBox, ITV and Channel 4.
Related Content
Based on your recent activity and preferences we recommend the following pieces of content