London, United Kingdom – 03 February 2021 – Bubble Agency, the global PR, marketing and events specialist for the media and entertainment technology and services sectors, today announced it has been appointed by Mark Roberts Motion Control (MRMC), a Nikon Group Company, with immediate effect.
Requiring a specialist global PR agency to further elevate the company's profile in the film, broadcast and media and entertainment sectors and generate awareness of their products around the world, MRMC has chosen Bubble Agency as a result of the team's extensive knowledge, experience and network within the sectors at a global level.  As well as a press relations strategy, Bubble will be focusing on thought leadership and targeted company profiling campaigns.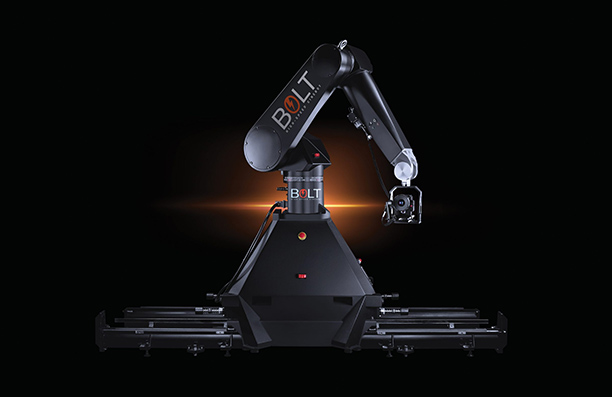 Based in the United Kingdom, MRMC is one of the world's largest suppliers of camera robotics and automation for cinematography, broadcast, television, sports, live events, fashion and photography.  MRMC's pioneering technology remains the industry standard for motion control rigs, offering the perfect mixture of high speed, precision and repeatability for film and cinematography professionals globally. Some of the other company solutions include Polymotion Chat, an easily deployable studio solution that allows an operator to automate up to six presenter and guest camera positions, using limb and face detection software and Showbolt, a high-speed robot arm and camera capable of shooting and editing cinematic quality content in seconds. Last Year MRMC also launched Polymotion Stage – the 4k mobile studio for the capture of volumetric stills,  video and avatar.  2020 saw the company pick up 4 industry awards including a Broadcast Tech award, SVG award as well as 2 NABshow product of the year awards to add to their impressive collection of past accolades, which include a an Academy Award (Oscar) and the prestigious Queens Award for technical excellence and enterprise.
"We are extremely impressed with Bubble Agency's expertise and excellent understanding of our industry," said Dan Brooks, Head of Marketing, MRMC.  "Our award-winning products empower creative professionals with precision, speed and efficiency required to capture their visions in a whole new way, and we feel Bubble is the ideal partner to help build our brand and effectively communicate our mission globally."
Sadie Groom, Managing Director, Bubble Agency, added: "The MRMC team are at the forefront of the industry, leading the way with its innovative products.  We are delighted to be part of MRMC's journey and working with the team to elevate its global position, as well as highlight its business wins through our PR efforts."
About Mark Roberts Motion Control (MRMC)
Mark Roberts Motion Control (MRMC) is a Nikon Group company. MRMC is on the front line of imaging innovation and is the leading manufacturer of cutting-edge solutions for motion control, automation, broadcast robotics, remote image capture and virtual and volumetric content production. They design, manufacture and assemble robotic rigs, pan-tilt and multi-axis robotic heads and tracking technologies. MRMC's robotic and software solutions are used all over the world by film studios, sports broadcasters, football leagues and more. Class-leading technical and engineering achievements have earned MRMC several industry awards in the past 50 years. For more information, visit www.mrmoco.com. In 2016, MRMC was acquired by Nikon Corporation.
About Nikon
Nikon Inc. is a world leader in digital imaging, precision optics and photo and video capture and technologies; globally recognized for setting new standards in product design and performance for an award-winning array of equipment that enables visual storytelling and content creation. Nikon Inc. distributes consumer and professional digital SLR cameras, NIKKOR optics. For more information, visit www.nikon.com
About Bubble Agency
Founded in 1999, Bubble is a full-service PR, marketing and events agency with expertise in the broadcast, media technology, sports and AV industries. Headquartered at Oxford Street, London, UK, with satellite offices in Dubai, Portland, and Los Angeles USA, Bubble works with a global network of PR and marketing specialists through its Big Bubble network to constantly communicate its clients' messages. Its clients include manufacturers, software companies, service providers, studios, post-production and visual effects facilities, industry associations and trade exhibitions. www.bubbleagency.com
Follow Bubble Agency on Twitter at @Bubble_Agency
Search For More Content