Company to demonstrate Postflux, which improves sharing of Adobe Premiere Pro and After Effects projects, plus developments to Workspace Tools and Project Parking that feature support for the new Avid Media Composer OP1A workflows and Avid NEXIS | Cloudspaces
24th July 2019 – Marquis Broadcast will showcase its world-class disaster recovery and business continuity tools at IBC (stand 7.D39) this September, including Postflux for Adobe Premiere Pro and After Effects. There are also developments with Project Parking and Workspace Tools, with the systems delivering support for the latest Avid Media Composer and its OP1A workflows, along with Avid NEXIS | Cloudspaces. In addition, Marquis Broadcast's Edit Bridge – which integrates non-Avid editors and artists within Avid Interplay PAM or Media Central Production Management environments – has been updated to support connection to multiple Interplay connections.
Postflux
Postflux is a new, cutting-edge platform, which improves the archiving, versioning, integrity, security, performance and sharing of Adobe projects in extended workflows. Based on a client server architecture, individual editors have their own Postflux user logins. Postflux scans and analyses disorganised source project files and resolves all associated media. It then moves the project and media to a specified location, thus creating a new fully self-contained and organised Premiere Pro project. This makes exchanging projects simple and easy, plus allows the user to write to the most appropriate and pre-determined storage locations, whether on high-performance storage, removable storage or cloud.
Marquis Broadcast's Managing Director, Paul Glasgow, comments, "Postflux simplifies and transforms the reliability of extended Adobe Premiere Pro project-based workflows. Missing media can be a nightmare for companies, so Postflux not only checks for this but also ensures project integrity from the point of origination through to archiving, helping transform production efficiency."
Project Parking and Workspace Tools
Marquis Broadcast's Avid-certified Project Parking tool is the industry gold-standard for Avid storage management analytics and project portability, providing project analytics, visualisation, management and archiving. The latest version supporta the new OP1A workflows as found in the new Avid Media Composer, supporting both parking and storage analysis. Project Parking and Workspace Tools now also integrate with Avid NEXIS | Cloudspaces, which is accessed via the Avid connection client. Avid NEXIS | Cloudspaces operates as though it's another workspace on the local NEXIS system, making it simple for disaster recovery, workflow sync and backup to the cloud.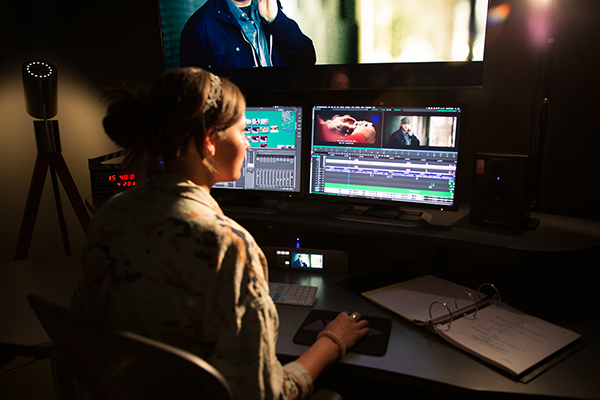 Project Parking's new dashboard feature enables usage tracking for Marquis Workspace Tools and Project Parking systems, and is especially useful for multi-site companies, helping to monitor data usage. It has an improved look and feel for IBC2019, with a new analysis section providing clear information about storage usage across all customer sites. It enables customers to accurately monitor the use of their data across all their sites, along with when it was processed, to ensure the systems are being used correctly.
Edit Bridge
Edit Bridge is successfully used worldwide by production companies, broadcasters and post houses to integrate non-Avid editors and artists within Avid Interplay PAM or MediaCentral Production Management environments. It enables the attachment of non-Avid creative applications to the Avid environment, such as Adobe Premiere Pro and After Effects. The latest release of the software includes a new search panel, which gives users the freedom to build flexible searches across the Interplay PAM database. The search panel will operate in addition to the current browse panel, providing users with greater flexibility in how they access Avid assets. The system additionally supports connection with multiple Interplay clients, so a user of this panel can access their choice of Interplay system, ideal when working within large broadcast systems.
Medway
Medway is a very powerful and scalable media-centric middleware solution, enabling a complete digital workflow to ensure edit platforms, MAMs, video servers and archive systems can work seamlessly together. New workflows, to be demonstrated at IBC, now enable relinking, integrating and archiving of Avid projects – both ground and hybrid cloud-based – especially useful when exchanging sequences between a main facility and remote editors.
Interplay Metadata Export Tool (IMET)
IMET enables customers to take Avid Interplay project and media metadata and export it – essential when archiving projects from an Interplay system. This is useful to backup Interplay metadata, make it more widely available and to reduce the size of the Interplay database. The utility works alongside the archiving process, exporting metadata so it's fully-searchable via a web browser, displaying a list of projects that you can open to see the metadata information for all assets (master clips, sub clips, etc.), along with headframes and a downloadable copy of the AAF file for sequences. It is possible to search across projects and assets using any system or user fields.
To find out more about Marquis Broadcast's latest product announcements, please visit Marquis Broadcast on stand 7.D39 at IBC2019 in Amsterdam or visit www.marquisbroadcast.com. To arrange a meeting with the Marquis team at IBC, please visit marquisbroadcast.com/ibc.
About Marquis Broadcast
Founded in 1998, Marquis develops specialist software to perform tricky integrations, including apps for post-production, disaster recovery, analytics, cloud workflows and large complex enterprise middleware integrations. Its customers range from big studios, including Warner Bros and DreamWorks, broadcasters such as CBS and the BBC, large service providers including Ericsson and Telefonica, right through to post houses such as ENVY and The Farm Group, and finally to many thousands of creative individuals. Marquis partners with most major industry players and many OEM our technology. Project Parking and Workspace Tools have been selected as Avid Platform Certified, and are now managing over 60 Petabytes worldwide. For further information or images, please contact Liz Cox, Brill Media (liz@brill.media, T: +44 7981 472844) or visit the Marquis Broadcast website at www.marquisbroadcast.com.
Search For More Content