Masstech launches new Adobe Premiere Pro panel for Kumulate
Tue 21, 01 2020
Powerful storage and asset management solution now seamlessly integrated with Adobe's flagship editing suite for increased workflow efficiency.
Whiteley, UK – 21 January 2020 – Adobe Premiere Pro users can now access the powerful functionality of Masstech's intelligent storage, workflow and lifecycle management solution, Kumulate, from directly within Premiere Pro via an intuitive panel.
The Adobe panel can be quickly and easily added to any Kumulate system with minimal configuration (individual editing stations don't need to be added as locations in the system). Storage movement and workflow tools are then presented as a plug-in within Adobe Premiere Pro, allowing users to access their entire inventory across any type of online or deeper storage tier, including cloud, local disk, optical disk, and LTO.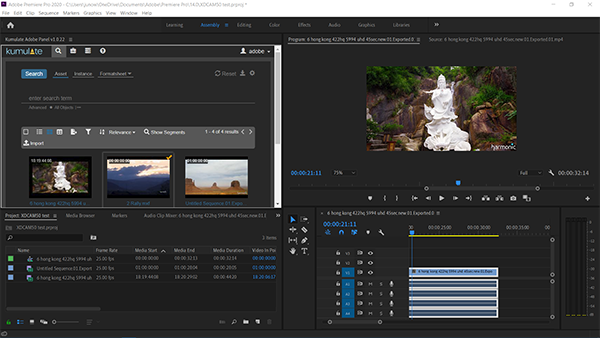 All assets on all storage tiers are searchable to Premiere Pro users from within the new panel, using intuitive search criteria including structured, unstructured, and time-based metadata. These powerful tools allow users to quickly access their content libraries from within Adobe Premiere Pro, dramatically speeding up workflows.
Premiere Pro and other assets can be quickly and easily restored directly to editing storage, including individual sequences, complete projects, or selected files from a project. Kumulate's simple UI allows users to browse proxies, and features familiar editing tools such as Adobe markers to define and initiate partial restores when only a portion of a file or project is required. And for customers operating multiple Kumulate systems, Kumulate's Federated Search enables search across the content in disparate systems, and subsequent copy of remote assets to the local storage.
Other Kumulate features now accessible from within Premiere Pro include frame-accurate proxy playback of stored assets; bi-directional marker support (Adobe markers can be included within the archived asset and can be imported back into Premiere from Kumulate); and advance monitoring. Transfers, transcodes, and workflow jobs can be viewed within the Adobe Panel, enabling users to monitor progress of their own jobs as well as those initiated by other users.
"Kumulate already works with a huge range of MAMs, PAMs, NRCS systems and NLEs, but we are delighted to be able to offer additional workflow benefits to Adobe Premiere Pro users," comments George Kilpatrick, CEO, Masstech. "Being able to access their entire video library in our next generation storage without leaving their editing application will allow Adobe users to spend more time on the core creative component of their job and less time searching for files and assets."
About Masstech Innovations
Masstech Innovations creates intelligent storage and asset lifecycle management solutions for the Media & Entertainment (M&E) industry. Masstech combines the experience of many decades of broadcast and video content storage management with edge IT technologies and development processes to identify and address the challenges of the industry's constantly evolving technology and business landscapes.
Today, more than 400 organizations representing every facet of M&E, around the world and across every platform, rely on Masstech solutions to keep their assets secure, and to deliver them to the right location in the correct format. For more information, please visit www.masstech.com
Related Content
Based on your recent activity and preferences we recommend the following pieces of content