Media Online GmbH becomes Broadcast Solutions Products und Service GmbH
Fri 03, 07 2020
Bingen /Frankfurt (Main) (Germany), 1 July 2020
As of 1 July 2020, Media Online GmbH, based in Frankfurt (Main), is now trading as Broadcast Solutions Produkte und Service GmbH, thus moving even closer to the parent company of the Broadcast Solutions Group. Following the takeover of Media Online GmbH by Broadcast Solutions GmbH in 2017, the name change is a further step towards bundling and expanding the company's competencies.
For more than 25 years, Media Online GmbH has been offering the perfect solutions for the workflows and projects of customers from the media sector with service, passion and high standards. With the integration into the Broadcast Solutions Group, we will combine the distinctive expertise in service even more strongly with the competencies of one of the largest system integrators in Europe. For customers, everything remains the same in terms of contact persons, customer focus and company headquarters. Broadcast Solutions Produkte und Service GmbH will continue to support customers in the DACH sector from its offices in Frankfurt (Main) and Stuttgart.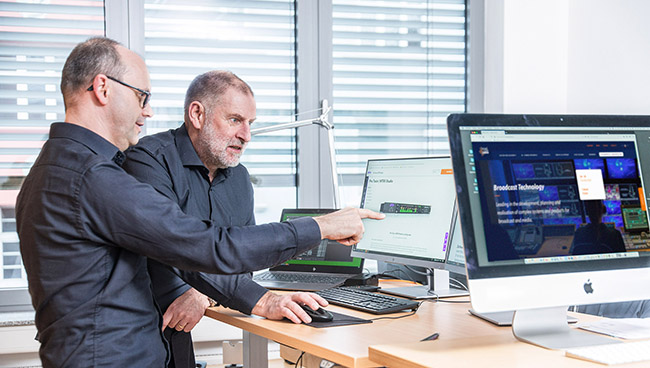 As in the past, the company offers competent consulting, sales and service of software and equipment for media professionals in broadcast, film, television and video production, broadcasting companies, industrial and advertising film production, film, video, multimedia and AV departments, colleges, technical colleges or universities.
Thanks to the new structure and the selected product portfolio, the company maps, configures and implements complete media workflows and provides all the necessary tools. Broadcast Solutions Produkte and Service GmbH is a reliable partner for their customers – during the planning phase, system implementation and in daily operations focusing strongly on service.
Stefan Breder, CEO of the Broadcast Solutions Group on the change of name: "With the new trading and, as a result, even stronger integration of the company, we are forming a unique team and a strong unit for the markets in Germany, Austria and Switzerland that comprises experienced support staff, technicians and sales managers. The goal of Broadcast Solutions Produkte und Service GmbH is to focus on product sales, including a system approach and providing a strong service for our customers – across all business areas from live-production to post-production".
Broadcast Solutions Produkte und Service GmbH remains one of the leading German Avid partners. In addition, the company sells, installs, supports, trains and provides support for the systems and applications of well-known companies, including Apantac, Barnfind, Phabrix, LaON Technology, Konvision, Broadcast Cables, Dream Chip, Simplylive, MOG Technologies, Q5X, Aspera, BORIS FX, Waves, iZotope, Zero Density, Mobile Viewpoint or nxtedition.
Broadcast Solutions is one of Europe's biggest system integrators and comprises a group of companies acting worldwide. Started in Germany more than 15 years ago, Broadcast Solutions stands for innovation and engineering "Made in Germany". With subsidiaries in Europe, Asia and the Middle East the group plans, implements and realises projects and offers its services in all broadcast and content related areas – globally.
With more than 150 employees worldwide and working as a hardware independent system integrator Broadcast Solutions offers its customers tailor-made solutions – from idea to implementation and beyond. You will find more information about our company and our products at www.broadcast-solutions.de / www.hi-app.de.
Related Content
Based on your recent activity and preferences we recommend the following pieces of content