Houston, Sydney, London, Munich – we have a problem.
Media operators are facing greater than ever daily challenges to keep their content moving in the face of the Covid-19 global threat. Emergencies tend to make or break audience loyalty and trust in media outlets, as they rise – or fail – in their coverage challenge. Survival requires everyone to adapt and change, to seize the day. As Darwin realised, it's not the fittest of the species that survive, but the ones who can adapt quickest to change.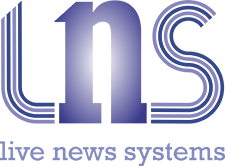 The sudden need for human survival through isolation from others, in a matter of days, has forced us to quickly adopt new workflows and new technological solutions, on a scale which we never thought possible, and which otherwise would have taken years to realise. We see amazing human ingenuity being applied by media operators large and small, who were planning only for their own survival, just a few short weeks ago.
Traditional, vast newsrooms and multiple edit suites – for decades the hub of live production – are now mainly empty. Overnight their major functions have become largely redundant. Expensive to run, they are no longer crucial to output. Their technology was not designed to work the way we need, now. It's dated – and expensive to maintain. Recent days have served to prove its time has passed. Everywhere the Efficient Workflow rule book – and the extra costs involved in keeping old workflows and technology moving – is being rewritten.
Multi screen laptops set up on fat broadband pipes, in bedrooms, lounge rooms, kitchens and cupboards, presently sharing space with the kids toys, piles of washing and family life, may be the present – they can't be the future. The past few weeks have forced massive change in how we use technology for workflows and its effect on organisational culture – and costs – and there'll be no going back.
For the leading media operators, the end of this emergency, whenever that is, will not be marked by returning to the old ways. It will be a new beginning. The change in workflow and cost was forced on us, virtually without warning. We should spend a bit more time in deciding what our new beginning will lead to.
We've been behind the emergency. Let's get ahead of the recovery.
We have taken a fresh look at what's really needed, but many of these new ways of working can't endure with the home life and lifestyle to which we yearn to return. Along with the debate on how and when to lift the pubic isolation lockdowns, and whether we'll need more such measures to combat the Covid Emergency going forward, we also need to address how our news and sports organisations will be rebuilt as fit for purpose. It's not just a matter of steam cleaning the old place and moving back in with the same kit and culture.
In the real world, consumption is up 40% but revenue is down 40%. There's no virus "cure all" on the horizon. In the face of that, how do we cope with the realities of a new beginning ? How do we survive Covid-19 and come out stronger on the other side – survive the battle, to win the war ?
That's what leadership is all about – not only seeing, but also seizing opportunity when it's offered. We have no doubt discovered the blueprint for the future, which we'd all been staring at from our thought clouds, for some time.
We've all learned new and exciting ways of creating compelling and complex content, and added new efficiencies to what could have been chaos. The study of organisational culture change shows that great social emergencies, such as the one we're living through now, re-sets organisations and their cultures commensurate with the degree of upheaval they've experienced, want to recognise, or confront.
Over the coming weeks, the Corona Emergency will speed up and it will slow down … but we'll be moving forward all the time. There'll be no going back to the way things were, nor the cumbersome technology of yesteryear, with its costs to maintain.
At the iOMedia Group Ltd we have been at the forefront of global media technology and culture change for over 30 years. We've developed LNS (Live News and Sports System) as a result of that revolutionary experience. LNS takes news and sport production into new possibilities, with a new culture, for a new era.
We've learned some valuable lessons, on news and sport technology, content, coverage, culture and cost.
Now would be a great time to work with you, as you contemplate the same thing. One thing's for sure – we're not going back to where we were. LNS can work with you to reimagine the future – at reduced cost.
Please e-mail me at : john@livesystems.io or call me in London in +447 747 864 629