London, UK, August 23rd, 2021  – DIT and digital dailies service provider Mission has invested in Leader LV5350 test instruments to support its monitoring of SDR and HDR on-set DIT, lab and DI pipelines. Supplied by Leader Europe distribution partner Thameside, they will be used primarily on location from the company's facility in North Kensington.
"Leader test equipment has proved consistently accurate, versatile and robust over many years," comments Tom Mitchell, Mission's technical director. "They provide all the resources we need to ensure full signal quality is maintained right through the workflow chain from ingest to customer acceptance. The portable LV5350 instruments are especially useful as they can be operated within our facilities or on location. The information DITs need is presented in a clean and logical style so that any defects in the source signal can be identified and corrected with maximum efficiency. Production teams particularly appreciate the multiscreen display which allows critical parameters to be compared side by side. Leader's CINEZONE and CINELITE tools are also very useful as they allow real-time monitoring."
"Mission has proved a loyal Leader customer for many years," says Thameside senior broadcast sales specialist Chris Margrave-Gregory. "The LV5350 has proved itself the reference instrument of choice around the world. I am confident the Mission team will find it fully meets their requirements."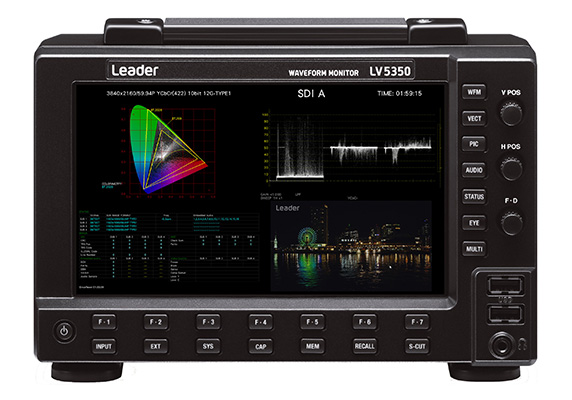 "Monitoring the actual signal right from the initial shoot is the ideal way to work," adds Kevin Salvidge, Leader Europe's regional development manager. "Test and measurement products like the LV5350 allow productions to check a wide range of settings at the point of capture and onward through production and post right through to transmission, saving time and money."
Leader's LV5350 waveform monitor incorporates many engineering-related features including test pattern generation, closed caption monitoring, CIE chroma chart, high dynamic range measurement, focus assist, operator configurable screen layout, tally interface, 4K/UHD operation and 12G-SDI interfaces.
These are supplemented by the intuitive CINEZONE and CINELITE toolsets which are familiar to many camera crews, editors and colorists. A focus detection algorithm allows the instruments to sense edges across a very wide range of image contrast levels. All features are accessible from the front control panel augmented by a 1920 x 1080 resolution 7 inch touchscreen TFT LCD monitor.
The LV5350 can be used freestanding, integrated into a studio control room or OB suite, or rack-mounted. It can be operated from universal AC or 24 volt DC power.
About Mission
Founded in 2011, Mission (www.missiondigital.co.uk) is a provider of digital workflow solutions, including on-set DIT, digital dailies video playback services, and our unique online dailies service: Easel. With offices in London and Cardiff, Mission has serviced projects across the globe at locations such as Abu Dhabi, Qatar, Azerbaijan, Turkey, Diego Garcia Island, Nepal, Italy, Prague and Greece. Each of our dedicated technicians is trained in-house to work using the same high standards and methodology, meaning Mission can pride itself on providing a consistent and scalable service built for mobile deployment. Our bespoke digital workflows allow us to service any production from point of capture through to post production.
About Thameside
Thameside (www.thameside.tv) was established in 1994 and is a totally independent supplier of broadcast and digital film production equipment. A Leader specialist distributor since 2004, Thameside has supplied and installed complete digital intermediate facilities both in the UK and overseas. Thameside also provides complete asset disposal programmes and evaluations as well as system design and integration services.
About Leader Electronics Corporation
Leader Electronics Corporation (www.leader.co.jp/en) has earned a worldwide reputation for designing and manufacturing highly reliable, practical and powerful test and measurement instruments. Leader products are specified for broadcast, production, post-production, research, product development and service applications. Manufacturing quality is built in every step of the way.
The Leader product range includes award-winning 3G/HD/SD SDI waveform monitors and rasterizers, all with customizable layouts. Among the available options are 4K/UHD, CIE chroma chart, HDR measurement, test pattern generation, eye and jitter measurement, closed-caption display, IP and 12G/6G-SDI. Leader has helped many customers manage their transition from analog to digital, from SD to HD, from HD to 4K/UHD, from SDR to HDR and from BT.709 to BT.2020 wide chroma gamut. Leader also provides SMPTE ST2022-7 and ST2110 support for the transition from SDI to IP.
Search For More Content