[Maia, September 27, 2021] MOG Technologies, the worldwide supplier of end-to-end solutions for professional media, announces today that it'll be launching a new webinar series, Cloud Economics – Breaking Down production and Distribution Costs, in response to the changing landscape of Cloud Production and Distribution technologies in use today, and why it's still a far reality for smaller creators or mid-sized studios – to name a few – that simply cannot access the same toolset that big production companies can.
"In the fewer opportunities we had to meet in person with our customers, partners, and friends in the industry, this theme kept coming up…" – says Luís Miguel Sampaio, CEO at MOG – "Most productions do not have the budget for a super-fast transition to the cloud. The industry understands that investing in on-prem infrastructure that might sit dormant for most of the time to anticipate peak demand is contra-productive, but there's simply a disconnection between understanding the benefits of the cloud and showing intent to migrate, than actually doing it when we start to consider every single investment that needs to be made, from the infrastructure to hiring new talent."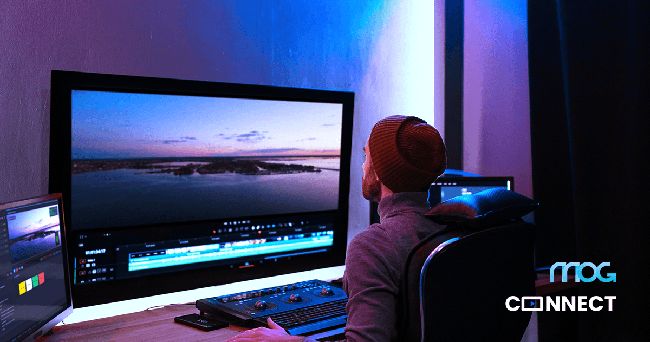 To dig deeper into this subject, we sought to gather all this feedback, and break down the real costs associated with the Cloud Production Infrastructures in use today, with demands highly aggravated by the pandemic, and explore how emerging technologies from key players on the market are aiming to solve the massive associated costs by making this reality accessible to everyone.
The webinar series will cover topics like:
• Digging deeper into what are the real challenges behind the remote production effort;
• Breaking down different sized production costs;
• Calculating the real costs you'll face with a migration vs your current costs;
• Understanding how to dismantle complex remote production infrastructures;
• Explore the new innovative technologies that are significantly reducing those numbers by a factor of 2.5, or even more.
Cloud Economics – Breaking Down production and Distribution Costs is available to everyone. The series will take place from October 11 to October 13, and visitors can choose from different timeslots to better fit their schedule.
To register for the webinar click here.

About MOG
MOG is a worldwide provider of digital media technology. Its innovative solutions enable the digital transformation across any industry that needs to create, manage, and distribute content while engaging with communities of any size. We're committed to reshaping the entire media value chain with powerful and accessible technology, from unified media workflows to virtualization, cloud services, OTT platforms, and beyond. Together, MOG is building the next generation of digital media technology that propels the communities' engagement ecosystem.
Search For More Content