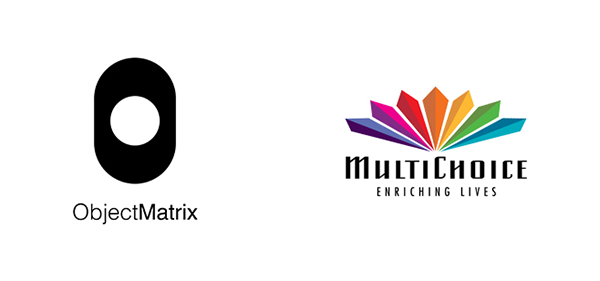 Johannesburg, South Africa, 26th February: Object Matrix, award winning provider of hybrid cloud storage solutions to the media industry, has provided 288 TB of MatrixStore object storage to MultiChoice, the leading Sub-Saharan Africa broadcaster to store and manage the content for Tshwane TV.
Tshwane TV is a new contemporary TV channel that provides high-quality programming that's entertaining, informative and educational for News, Sport, Movies and so much more. With the increasing need to manage, protect and access all content created, Tshwane TV required a solution that enabled simple ingest of assets onto a secure archive platform that will protect and future-proof content whilst being easy to find and share at all times.
By implementing MatrixStore, the on-premise object storage platform, Tshwane TV has greater flexibility in the way it manages its assets. Being able to automate the workflow and have easy access to its content using MatrixStore's suite of applications including Vision, the web-based browser that manages digital assets, will enable Tshwane TV to focus on revenue generation. And as content generation increases, MatrixStore can scale as required.
Clifford Ramabale, Chief Engineer, Multichoice, Commented:
"The basis for the project was to find a platform that can manage our growing volume of content, protect it and have it instantly available. MatrixStore was an attractive solution for us because it is built for media workflows and because of the flexibility and scalability it affords. Also having Vision to browse our content plays a big factor and we really look forward to using it."
The multiple award-winning media focused Hybrid Cloud solution, MatrixStore, is designed to solve the challenges faced by media organisations that archive, ingest and share video content in house or globally.
Peter Watling, Sales Manager, Object Matrix, added:
"Tshwane TV will really benefit from implementing MatrixStore to protect and future proof its valuable content. With little management required and ease of use, the teams now have fast access to their assets through our intuitive applications. Initially, the cluster will be installed in one location with plans to expand throughout the footprint linking up the business units."
About Object Matrix
Object Matrix is an award winning UK based software company that pioneered Digital Content Governance (DCG), object storage and the modernisation of digital video workflows. Its media focused private and hybrid cloud solutions are tightly integrated into file based and IP workflows and bring economic and operational benefits to all customers. Its flagship product MatrixStore, is used by the world's largest organisations that create and distribute video content, including NBC, TV Globo, MSG-N, the BBC & BT.
For further information please visit – http://object-matrix.com/
Facebook – https://www.facebook.com/nearline/
Twitter – https://twitter.com/Object_Matrix
LinkedIn – https://www.linkedin.com/company/object-matrix/
Search For More Content