Cookham Dean, UK, 23 March, 2021: Hitomi Broadcast, manufacturer of MatchBox, the industry's premier audio video alignment toolbox, has announced that NEP Connect has purchased a 4K MatchBox system – Generator and Analyser complete with a Glass license – for use in NEP Connect's MediaCity Network Operations Centre in Salford, UK.
NEP Connect (formerly known as SIS LIVE), is a leading provider of global critical connectivity services delivering thousands of hours of news, sports and entertainment content to millions of viewers worldwide via comprehensive satellite coverage and Anylive® fibre infrastructure.
Head of Network Operations for NEP Connect Phil Goulden explained, "MatchBox has been adopted by many of our partners and customers which clearly demonstrates the strength of the product. In order to align with their test equipment and ensure that we continue to add value during technical line-ups, this purchase was essential to expand our suite of test and analysis equipment."
MatchBox is a state-of-the-art toolkit that streamlines live broadcast synchronisation and is relied on by broadcasters worldwide to ensure the timing of live sports, news and events. It offers an intuitive identing feature, rapid measurement of lip sync, audio coherence, audio levels, phase inversions and video timing. The MatchBox Analyser tool sits in the OB truck or MCR and looks and listens for the specific Hitomi video and audio signatures produced by the hardware MatchBox Generator (which produces 4K test patterns) and/or the Glass app.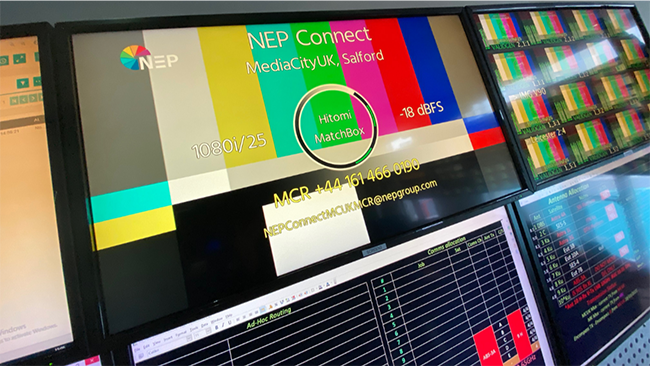 A new essential for high-profile remote productions, the Glass app allows precision measurement of lip-sync and video to video timing alignment at the point of capture. The user holds an iPhone or iPad running the free iOS app in front of up to four cameras and feeds the signal back into the Analyser.
Hitomi Broadcast Director Russell Johnson said, "Eyes and ears can be highly subjective so Hitomi's answer is to take the guesswork out of the equation, replacing human estimates with a fast and accurate, electronic testing system. MatchBox enables a reliable and consistent measurement of any signal delays and provides reassurance when everything is perfectly aligned."
Goulden concluded, "NEP Connect continue to invest in the latest technology, not only for event contribution and distribution encoding, but also test and analysis. The Hitomi MatchBox fits into this strategy and enables us to deliver the highest possible levels of service to our biggest broadcast customers."
About Hitomi
Hitomi is a professional television broadcast equipment manufacturer located in the UK. Specialising in streamlining the line-up process of lip synchronisation, coherence and channel identification, it is dedicated to helping customers achieve exceptional broadcasts. Hitomi technology is integrated into numerous systems worldwide and has been used for a multitude of high-profile events and productions. Its flagship product 'MatchBox'​ solves lip-sync, coherence, line identification and audio level monitoring problems. Hitomi's engineering team has many decades of experience in professional broadcast manufacture, developing world-leading products to exacting standards.  For more information, visit www.hitomi-broadcast.tv
About NEP
For over 30 years, NEP has been the leading worldwide technical production partner helping premier content producers bring live sports and entertainment to life. Our services include centralized and remote production, specialty capture, RF and wireless video/audio, virtual and in-studio production, audio visual solutions, host broadcast support, post production, connectivity and transmission, premium playout and innovative software-based media management solutions. NEP's 4,000+ employees are driven by a passion for superior service and a focus on technical innovation. Together, we have supported productions in 88 countries on all seven continents.
NEP is headquartered in the United States and has operations in 25 countries. Learn more at www.nepgroup.com
Search For More Content