NEP Finland deploys EVS workflow for Love Island
Mon 09, 09 2019
End-to-end EVS workflow including Dyvi switcher deployed for 24-hour reality TV production
Liège, Belgium, September 4, 2019
Broadcast solutions provider NEP Finland has selected an end-to-end EVS live production workflow for Love Island Suomi, the Finnish version of ITV Studios' hugely popular reality series. The eight-week long production for Bonnier's MTV Finland takes place in a Spanish villa, offering contestants the holiday of a lifetime with the added possibility of meeting their soul mate. With 50 cameras capturing the action 24 hours a day, proven reliability is key as the kit will be running continuously to ensure producers can best showcase the developing storylines and keep fans engaged across TV, social media and through the show's dedicated app.
The robust turnkey EVS workflow used by NEP Finland is ideal for reality TV production and covers everything from ingest, logging, media management and vision mixing through to post-production integration. At the center of this deployment is a Dyvi software-defined switcher comprising two processing modules which provide 64 inputs and two panels configured as a single production.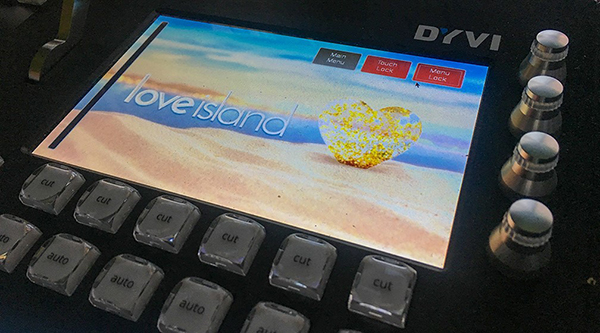 NEP Finland selected Dyvi because it delivers the flexibility and scalability required for the show's line producers to create four transmission feeds simultaneously. By using Dyvi and its integrated multiviewers, they can monitor all 50 live camera feeds from each panel, something that was not possible for them previously. The four transmission feeds are recorded on an XT live production server and logged using the content management tool IPDirector to enable instant access to content. Producers also use IPDirector to create clips and structure the show airing the next day. Combined with EVS' IPLink plug-in for the Adobe® Premiere Pro editors and IPDirector's IPBrowse application for the social media team, the crew is able to work together and turn around content in a flash.
Dyvi's built-in multiviewer conveniently provides all sources on a video wall for the line producers and ingest operators. The switcher's fully configurable panels enable operators to make bespoke modifications and customize the solution based on their specific requirements, providing them with just the tools they need for the job at hand. Dyvi's scalability also means more inputs and panels can be added if required.
Marko Viitanen, Managing Director and Head of Production at NEP Finland, said: "EVS offered a fast and reliable end-to-end solution that provides instant access to a significant amount of camera feeds and an intuitive toolset that matches Love Island's production requirements."
The EVS workflow also provides value outside of the core production. The on-site social media team uses IPDirector to browse all the content produced by the editors, without requiring additional tools to collect material. They can access the content in Premiere, add subtitles or graphics, then export the clips and publish them directly to either Instagram, Facebook or the dedicated Love Island app.
"EVS technology is ideally suited to reality TV productions such as this, where something newsworthy can happen at any moment, and on any part of the set," said John Carter, VP Product at EVS. "The XT server's trademark loop recording guarantees uninterrupted multi-channel recording, so nothing is missed and material can be accessed at any time. And with Dyvi, crews can monitor high camera counts on an intuitive tool that requires minimal training, is easy to use, fully customizable and delivers unparalleled levels of flexibility."
The Dyvi switcher will be among the latest live production tools that EVS will be showing on stand 8.B90 at IBC2019.
About EVS
We create return on emotion
EVS is globally recognized as the leader in live video technology for broadcast and new media productions. Our passion and purpose are to help our clients craft immersive stories that trigger the best return on emotion. Through a wide range of products and solutions, we deliver the most gripping live sports images, buzzing entertainment shows and breaking news content to billions of viewers every day – and in real-time.
The company is headquartered in Belgium with offices in Europe, the Middle East, Asia and North America, and provides sales and technical support to more than 100 countries. EVS is a public company traded on Euronext Brussels: EVS, ISIN: BE0003820371.
For more information, please visit www.evs.com.
Related Content
Based on your recent activity and preferences we recommend the following pieces of content