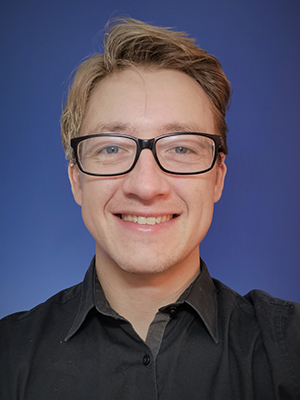 The audience engagement specialists plan to consolidate market position with key verticals in broadcast, digital, and brand advertising as a cloud-based SaaS solution
Manchester, UK – 4 March 2021 – Never.no, the award-winning audience engagement specialist, today announced the appointment of their new Head of Marketing & Communications, Alex Humphries-French. Joining from Tech PR agency, Red Lorry Yellow Lorry, Alex' varied background in b2b and b2c marketing and comms, will help to support Never.no's strategy in growing brand reach and strengthen industry partnerships with collaborative events throughout the year.
With 15 years' experience within the media and entertainment industry, Alex has worked for market-leading LED lighting manufacturer, Rotolight, as their PR & Marketing Lead, managed award-winning campaigns for the likes of Avid, and built personal branding for actors in film & TV. Working closely with the Sales Director Harry Macey and the global sales team, Alex aims to enhance content and lead pipelines, and build up the company's internal and external communications.
"I'm excited to join Never.no during a time of innovation across the industry. We're seeing huge changes in the way the audience is consuming content, as broadcast, digital, social and brand content providers look to create new ways to connect with a growing audience." said Head of Marketing & Communications, Alex Humphries-French. "I'm delighted to be leading the marketing and comms for a company that has a huge opportunity for growth, particularly with our audience engagement platform, Bee-On and the team's first-rate industry expertise – I can't wait to get stuck in and collaborate with established partners and clients, such as Vizrt, ITV, and Sky," said Alex.
In 2018, Alex joined Red Lorry Yellow Lorry as an Account Manager, following two years in Australia freelancing on various digital marketing projects. His reputation for a people-first approach and strong client relationship skills helped him progress to Senior Account Manager, managing PR and digital marketing accounts for clients including Avid and IBM Aspera in EMEA, alongside non-profit diversity initiative, Access:VFX. No stranger to the spotlight, Alex's experience spans across TV & film, having worked at both Pinewood Studios and Elstree Film Studios, in production, casting and talent management.
"We're very pleased to have Alex on board. His extensive experience and knowledge of the industry will support our strategy in creating more touchpoints with relevant content providers looking to boost audience engagement," said Ed Abis, General Manager for Never.no. "We've worked hard on building a strong team and Alex is an important addition as we grow our reach globally," concluded Ed.
About Never.no
Never.no is an international award-winning audience engagement specialist, with headquarters in Manchester- UK, Oslo- Norway and offices in Canada, USA, Australia and UAE.
With over 20 years' experience in interactive TV, Never.no has developed its cloud-based content management solution Bee-On to provide broadcast and digital content providers, and advertisers with the tools to deliver rich and captivating content that can be managed remotely and integrated into most production workflows. Bee-On's innovative feature-set includes a robust social moderation engine that filters audience-generated content – such as images, comments and videos – and manages scalable live polls and competitions, delivered in real-time, for live or pre-recorded programming, packaged alongside html cloud graphics.
More information can be found at www.never.no.
Search For More Content