Rohde & Schwarz presents its R&S SpycerPAM production asset management at IBC 2019. The software extension of the R&S SpycerNode storage platform simplifies project management and integration of a multitude of video processing tools. This makes workflows more efficient, especially for post production companies.
Munich, September 4, 2019 — Managing access rights, proxy administration and avoiding multiple storage of assets are just a few of the challenges that complex film projects may face. The R&S SpycerPAM project asset management solution addresses these issues and significantly simplifies project handling. It offers functions such as asset management, rights management, metadata management and proxy generation as well as many features that simplify collaboration, allowing users to focus on being creative.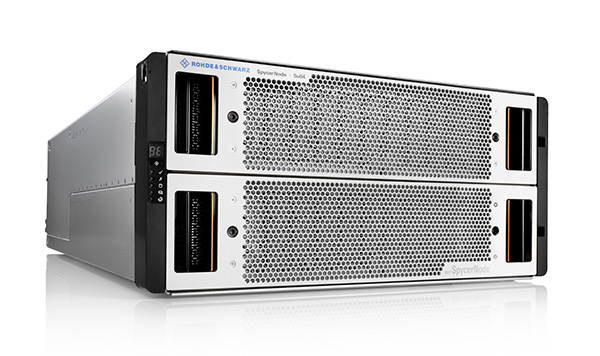 R&S SpycerPAM supports numerous video processing tools, including Adobe Premiere Pro, Adobe After Effects, Final Cut Pro, Avid Pro Tools and Avid Media Composer. R&S SpycerPAM seamlessly integrates the tools and creates its own "project mounts" for project management on R&S SpycerNode. Users can be assigned different access rights and see only assets and projects for which they have permission. Previewable proxies are generated automatically for the assets used, regardless of type – videos, complex Photoshop files, etc. Previews can be accessed with a single click. Smart mirror mechanisms prevent redundant storage of assets from various projects in R&S SpycerNode memory and sustainably reduce the storage capacity needed. In addition, rough cuts can be created quickly with the integrated web-based Preditor and then linked in the user's preferred processing tool.
The R&S SpycerNode storage solution was unveiled at IBC 2018. It represents a new and radically different approach to a wide variety of requirements for media file storage solutions. R&S SpycerNode features high availability, scalability and redundancy.
R&S SpycerNode with the new R&S SpycerPAM production asset management solution can be seen at IBC 2019 in hall 7, booth B21.
Rohde & Schwarz
The Rohde & Schwarz technology group develops, produces and markets innovative communications, information and security products for professional users. The group's test and measurement, broadcast and media, aerospace | defense | security, networks and cybersecurity business fields address many different industry and government-sector market segments. On June 30, 2018, Rohde & Schwarz had approximately 11,500 employees. The independent group achieved a net revenue of approximately EUR 2 billion in the 2017/2018 fiscal year (July to June). The company has its headquarters in Munich, Germany. Internationally, it has subsidiaries in more than 70 countries, with regional hubs in Asia and America.
Rohde & Schwarz Broadcast & Media
Rohde & Schwarz has been an innovator in broadcast and media for over 70 years. The Rohde & Schwarz product portfolio covers the entire signal processing chain for digital video and audio content – from ingest and playout to encoding and multiplexing, from contribution to satellite and IP networks to terrestrial transmission. It includes solutions for monitoring in the studio, as well as for monitoring streaming and broadcast services and entire broadcast networks. The T&M expert also offers a diverse range of instruments for testing end user equipment and infrastructure components in development, production and quality assurance. Rohde & Schwarz invests in an IP and software based future built with the blend of innovation, experience and stability that the company can offer.
Search For More Content