BossFM 95.5, a leading contemporary FM radio station operating out of Abuja, Nigeria's capital, serves a wide audience base with a unique blend of talk shows and music genres. Following the decision to make the talent's mission as straight-forward and intuitive as possible, BossFM's on-air studio has been equipped with Lawo's IP-based RƎLAY virtual radio software, which replaces their former digital console.
With this important upgrade, BossFM 95.5 becomes the first genuinely virtual radio station in Nigeria's Federal Capital Territory.
The talent-first design and immediacy of the on-air studio's desktop layout are provided by Lawo's professional and affordable RƎLAY software suite, which offers a full-blown broadcast mixer and more: mixing, processing, and routing can be performed on a touchscreen connected to an off-the-shelf PC—or on a laptop, for on-location shows.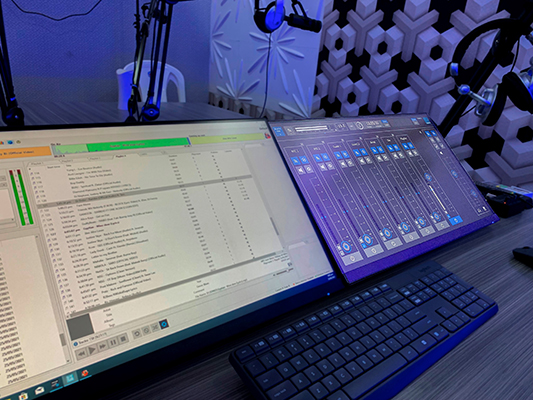 RƎLAY allows BossFM to mix 24 audio sources as well as AES67-compliant AoIP signal streams directly on the station's PC, for pristine audio production and output.
BossFM 95.5's owner especially appreciates the fact that "Showing our on-air talent and staff the basic functionalities of this novel tool took just a couple of hours. The first show presented with our new virtual setup went live that same afternoon."
RƎLAY's seamless integration with third-party hardware and applications has allowed BossFM to turbocharge its capabilities, with enough resource capacity to expand even further, in line with future needs. Other members of the RƎLAY product family, like VPB Virtual Patch Bay, VSC Virtual Sound Card and AES67 Stream Monitor software, provide comprehensive tools that make it possible to have an all-in-one radio station right on a PC.
Opeyemi Ogunsaju of Mega Cyber Plus, Lawo's partner in Nigeria, who was in charge of system integration and service support, confirms: "RƎLAY's simple and straight-forward looks are deceptive. This virtual radio suite brings professional radio production to any radio station, complete with Audio-over-IP and internal routing."
About Lawo
Lawo designs and manufactures pioneering network, video, audio, control and monitoring technology for TV and radio broadcast, performing arts, houses of worship, stadiums and corporate applications. Products include IP-based media infrastructure solutions, control and monitoring systems, digital audio mixing consoles and video processing tools. All products are developed in Germany and manufactured according to highest quality standards at the company's headquarters in the Rhine valley town of Rastatt, Germany. For additional information, please visit www.lawo.com.
Search For More Content