Latest software release boosts storytelling capabilities
Malmö, Sweden, April 29, 2021 — Production and storytelling specialists nxtedition is set to launch the latest version of its core software. The new release will bring a range of additional and improved functionality to the platform, all aimed at boosting operational efficiency.
"At its heart, nxtedition is a platform for storytelling," said Robert Nagy, lead developer & co-founder at nxtedition. "We continually talk to our users to find out what they need to do their jobs, but most important we plan upgrades which will enhance the user experience without over-complicating it. Our users need to work swiftly and accurately."
Typical of the new functionality is instant access to basic editing and voiceover tools for any clip in the system. This allows a journalist to quickly build a story by simply assembling the pictures and adding a script, through intuitive controls. The toolset is good to produce typical news stories, but if there is a need for more sophisticated craft editing, nxtedition offers a plug-in for Adobe Premiere Pro as required. The plug in supports WebDAV to stream the high-res material (not proxies) directly into a premiere pro edit at high speed.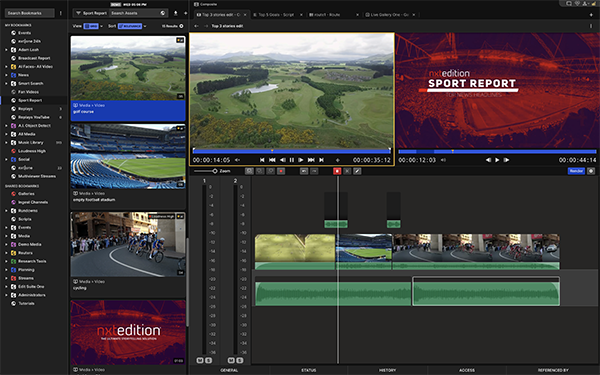 The new release helps users plan their work, through improved search and calendar tools, on-screen tabs, and search indexing of all graphics and subtitles. Colour correction can be applied to any video clip or image in the system to match footage from different sources, and outputs can be rendered in multiple formats. Ingest record from SRT and NDI® feeds is now well proven and widely used so is also supported.
Additionally, an exciting new feature will allow users to create HTML5 graphic templates within After Effects and export them for use on-air in nxtedition at great speed. Using the generated event users can then change any dynamic fields for text, colour, scale and position and there is even support for AE Expressions and animations.
"Release 19.4 is another important step in the development of an ever-more agile, more creative user experience," Nagy added. "The nxtedition platform is rapidly growing in applications, from new media streaming services to national broadcasters, because it puts the right tools in front of the journalists, producers, planners and editors. It is powerful without being complex – that is its strength."
Software version 19.4 will be available to all existing users from May 2021, with a programmed upgrade agreed with each client.
Full list of new features added to 19.4 release.
Image Tools
Colour Correction
HQ + LQ Recording
After Effects HTML5 graphic template export
Ingest adds SRT & NDI® support
Native Edit Render
Edit Improvements
Reduced Latency
Inline Search
Searchable Graphics & Subtitles
Tabs
Calendar Improvements
Facebook Publish Rehaul
Searchable Render Status and Errors
Straight Alpha Support
Controller Improvements (MIDI Support added)
About nxtedition
Founded in 2012, nxtedition has revolutionised video production as one of the world's most creative software products in the broadcasting industry. nxtedition was one of the first to approach the simplification of the broadcast process by virtualising microservices to replace legacy systems. The existing paradigm of appliance-based products from multiple manufacturers creates layers of complexity which are expensive to purchase, difficult to maintain, hard to integrate and need specialist staff to operate.
The frustrations of these inefficient workflows brought nxtedition into being, taking a rather unconventional route which uses the latest in web technologies and re-purposes them within a broadcast environment. Nxtedition virtualises appliance products (prompters, newsroom control systems, automation, media asset management, transcoding, video servers, graphics systems) and creates microservices to provide virtual instances of their functionality.
The core ethos of nxtedition is to plan, write, edit, play out and archive productions within a single consolidated system where the focus is purely on storytelling and not the underlying technology.
Search For More Content