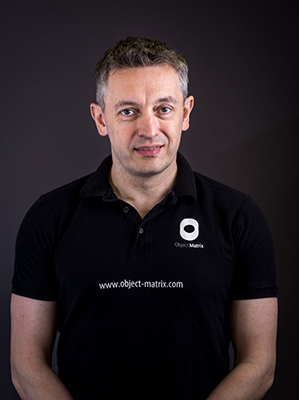 Cardiff, Wales, 15th October 2019 – Object Matrix has today announced its successful certification between MatrixStore, the award-winning object storage solution with Quantum's advanced file system and data management platform, StorNext.
Quantum's high-speed parallel file system StorNext, supports organisations planning to store large, rapidly growing data sets and which intend to help drive business value from that data. As a high-performance, multi-tier shared storage platform it is designed for data-intensive workloads making it one of the fastest streaming file systems in the media industry.
Object Matrix's MatrixStore is a media focused object storage platform that provides scale, security and future proof access to both content and metadata. MatrixStore is a hybrid-cloud and object storage platform that enables organisations to benefit financially and operationally by modernising their video workflows.
The joint solution enables customers to seamlessly tier data between StorNext and MatrixStore. Using the MatrixStore S3 interface, the integration was completed just prior to IBC paving the way for Quantum to resell Object Matrix products and services from Q4 2019 onwards.
Jon Morgan, CEO, Object Matrix:
"The in-depth certification program, and the close collaboration of the technical teams on this project has produced a well-rounded solution set that we believe is unparalleled across the rest of the industry. Both companies share a similar DNA in terms of being heavily focused on the media industry, understanding media organisations' challenges, solving them and providing world class support throughout the lifetime of the relationship. We look forward to working with Quantum's commercial and technical teams in continuing to meet media challenges."
Eric Bassier, Senior Director, Quantum:
" Our StorNext customers are increasingly looking to object storage for large-scale content repositories and for content distribution. This certification with Object Matrix further expands Quantum's ecosystem of certified object store providers, and enables our customers to extend their StorNext shared storage environment with an Object Matrix nearline content repository"
If you would like to know more about the technical or commercial collaboration between Quantum and Object Matrix then please get in touch with your local representative.
About Object Matrix
Object Matrix is the award-winning software company that pioneered object storage and the modernisation of media archives. Our on-prem and hybrid cloud storage solutions bring operational and financial benefits to our customers by securely managing content at every stage of its lifecycle; from ingest and nearline to archive and distribution. Deployed where you need it, our technology is non-proprietary, integrates into existing workflows, enabling you to work locally and share globally.
Our flexible approach, coupled with our focus on the media industry, means that our customers can trust us to deliver the solution they need. Our domain expertise, solutions and world class support are tailored to meet the growing demands faced when creating, archiving and sharing media content. Customers include: BBC, Orange, France Televisions, BT, HBO, TV Globo, MSG-N and NBC Universal.
Search For More Content