Cardiff, Wales, 26th March 2019 – Object Matrix has announced its roadmap for enhancing the API integration between MatrixStore and two Amazon Web Services (AWS) solutions: Amazon Simple Storage Service (Amazon S3) and Amazon Glacier.
MatrixStore is a media-focused hybrid cloud object storage solution. The API integration with Amazon S3 allows for object storage, while the API integration with Amazon Glacier allows for long-term archiving. All assets can be accessed instantly from MatrixStore Vision, regardless of where they are located.
Assets can be sent to Amazon S3 either manually or using automated rules and workflows. When archiving to Amazon Glacier, MatrixStore will move items to Amazon S3 in order to push them to Amazon Glacier.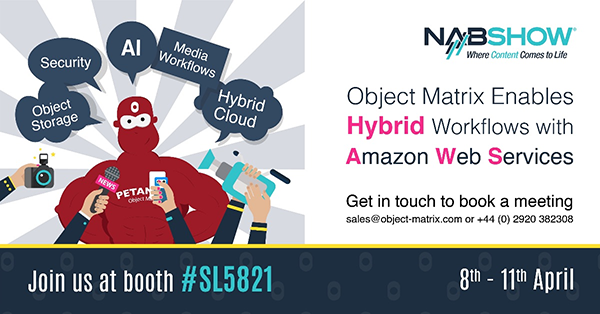 The next version, which will be demonstrated at NAB Show 2019 in Las Vegas, features a number of important updates aimed at ensuring a seamless hybrid workflow between the different storages. This includes the ability to perform bulk, expedited, or standard restore from Amazon Glacier. Partial restore from Amazon S3 and Amazon Glacier means users can keep the proxy version local in order to select which part of the high-resolution version in the cloud to restore. This saves from having to download the entire high-res version.
Users will also be able to archive with a Metadata Sidecar File to ensure the associated metadata remains intact. Unique GUI indicators will display when an asset is on-premises, in Amazon S3 or in Amazon Glacier giving users a clear overview of where items are located.
Jonathan Morgan, CEO, Object Matrix, commented: "We believe that the future of storage doesn't exclusively lie on-premises nor in the cloud, but rather in a mix of the two. You should be able to keep your assets where you need and use them, but you should also be able share those assets around the world and take advantage of cloud Disaster Recovery. By ensuring a streamlined API integration with AWS storage solutions, we are allowing our customers to work local, share global."
The integrated workflow is being implemented for a customer looking to archive an Avid workflow. Assets will be automatically added to MatrixStore then archived to Amazon S3. The entire archive can be restored at any time in the event of content being accidentally deleted or a local data loss.
Object Matrix will be demonstrating the API integration on its booth at NAB Show 2019 (SL5821) from 8th– 11thApril.
About Object Matrix
Object Matrix is an award-winning UK based software company that pioneered Digital Content Governance (DCG), object storage and the modernisation of digital video workflows. Its media focused private and hybrid cloud solutions are tightly integrated into file based and IP workflows and bring economic and operational benefits to all customers. Its flagship product MatrixStore, is used by the world's largest organisations that create and distribute video content, including NBC, TV Globo, MSG-N, the BBC & BT.
Search For More Content