Cardiff, Wales, 19th March – Object Matrix, award winning provider of hybrid cloud storage solutions to the media industry, has launched the latest version of MatrixStore. The media focused private cloud storage solution, MatrixStore 4.0, which has been enhanced to further improve hybrid workflows, will be demonstrated on its stand at NAB Las Vegas.
As well as deeper integrations with cloud storage, MatrixStore 4.0 has a completely redefined management experience, enabling browser based admin access. Admin users can login from anywhere on a web browser and access all the admin tools available. This includes updating permissions and roles and adding or removing users.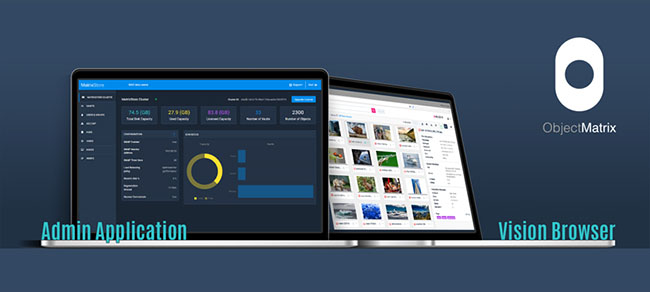 Jonathan Morgan, CEO Object Matrix, commented: "We strongly believe that the future of storage is neither on-premise nor in the cloud, but a combination of both. By delivering integrated hybrid workflows, we can allow our customers to work local, share global."
The latest version also features improved and enhanced search capabilities on full or partial Process in Place field values. It allows searching based on words or regex expressions within the metadata values extracted by PiP making it easier than ever to find items within MatrixStore quickly and efficiently.
A more robust SAMBA package means automated failover to a second hub should the first hub go offline for any reason. An updated REST management API makes it easy to create customised workflows.
Object Matrix will be demonstrating MatrixStore 4.0 on stand SL5821 at NAB Las Vegas from April 8th to 11th. If you would like to book a meeting, please email sales@object-matrix.com.
About Object Matrix
Object Matrix is an award-winning UK based software company that pioneered Digital Content Governance (DCG), object storage and the modernisation of digital video workflows. Our media focused private and hybrid cloud solutions are tightly integrated into file based and IP workflows and bring economic and operational benefit to all of our customers. Our flagship product, MatrixStore, is used by the world's largest organisations that create and distribute video content, including NBC, TV Globo, MSG-N, the BBC & BT. For more information please visit https://object-matrix.com/
Search For More Content