Cardiff, UK, 21st August 2019 –Object Matrix has launched the latest version of its media focused object storage solution, MatrixStore. MatrixStore 4.1 features compatibility with more hardware and operating systems, as well as updates to MatrixStore Vision, web admin and monitoring.
MatrixStore is a media focused private and hybrid cloud solution that is built on object storage technology from Object Matrix. It enables media companies to focus on activities that bring value rather than managing legacy storage platforms.
The latest version includes the company's recently launched monitoring and analytics tool, Sense. It enables the collection of real-time statistics, real-time monitoring of hardware and analytics over all storage systems. Sense can work stand-alone or with alternative dashboards to view and analyse how media assets are being used.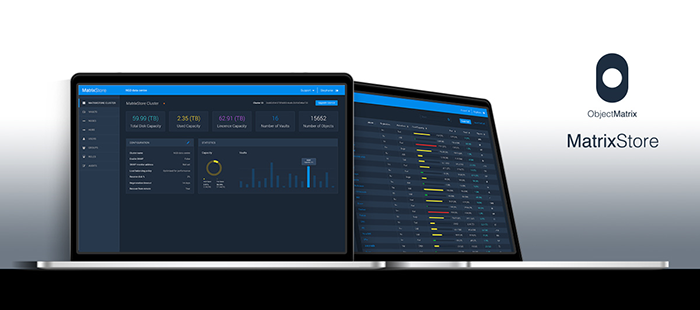 MatrixStore 4.1 also includes certification of the latest Supermicro platform based on scalable processors, as well as certification of the Dell storage server. Already compatible with Cisco's storage server, customers can now benefit from flexible hardware costings, different hardware support levels and a variety of customisable DELL EMC equipment.
Adding to MatrixStores strong security credentials the web admin tool has now been updated to include the name of users on audits, making it easy to inspect what actions have been performed by which user.
MatrixStore Vision, the browser-based content search and collaboration tool, now enables users to restore objects from Amazon Glacier at a specific restore speed. It also enables the display of offline objects, making it easy to view the entire library, no matter where content is stored. The upcoming version features a new player integration, time format options and partial restore.
Jonathan Morgan, CEO, Object Matrix, commented: "Media storage no longer sits on a server. It sits on-prem, on-cloud, on-100-local-PCs. Our customers need the tools to store assets wherever and however they are needed. The latest version of MatrixStore makes managing storage on itself and across multiple storage platforms easier than ever before."
MatrixStore 4.1 will be demonstrated on the Object Matrix Stand (6.C30) at IBC from 13th to 17th September.
About Object Matrix
Object Matrix is the award winning software company that pioneered object storage and the modernisation of media archives. Our on-prem and hybrid cloud storage solutions bring operational and financial benefits to our customers by securely managing content at every stage of its lifecycle; from ingest and nearline to archive and distribution. Deployed where you need it, our technology is non-proprietary, integrates into existing workflows, enabling you to work locally and share globally.
Search For More Content