27th, April, 2021- Cardiff, UK – Object Matrix has been recognised as a Challenger and Fast Mover poised to achieve a Leadership position in the GigaOm Radar for Enterprise Object Storage which analysed numerous object storage vendors across key evaluation criteria. This GigaOm report is one of a series of documents that helps IT organizations assess competing solutions in the context of well-defined features and criteria.
Based in Wales, Object Matrix specializes in providing media focused object storage solutions to organisations that need to manage video assets or rich media files. Its flagship solution, MatrixStore enables organisations to benefit financially and operationally from modernising video archive workflows and providing instant access to all media assets from anywhere.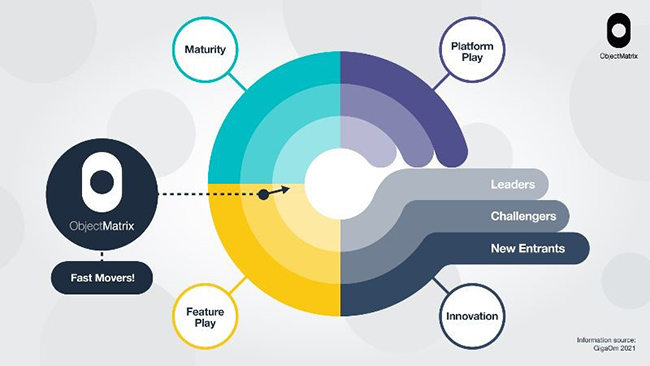 The GigaOm Radar, has recognised MatrixStore as a cost effective and specialist Object Storage solution with a strong orientation towards media management. It has also been recognised as being easy to manage and having a good TCO for organisations of all sizes, especially used with Vision media management application. The GigaOM Radar is a forward-looking analysis that plots the relative value and progression of vendor solutions along multiple axes based on strategy and execution. The Radar report includes a breakdown of each vendor's offering in the sector.
Jonathan Morgan, CEO, Object Matrix, commented: "Our philosophy at Object Matrix is that the storage solution must be feature rich, secure, and a breeze to manage and it is great to see Object Matrix recognised in the GigaOM Radar. Being "Customer focused" for us means that the product should be well rounded having GUI, API, filesystem, analytics and management interfaces on cross platforms. It sets us apart from some other object storage platforms that are more like IT projects than a fully rounded product."
GigaOm provides technical, operational, and business advice for IT's strategic digital enterprise and business initiatives. GigaOM, works directly with enterprises both inside and outside of the IT organisation to apply proven research and methodologies designed to avoid pitfalls and roadblocks whilst balancing risk and innovation.
If you would like to read the full report please click here.
About Object Matrix
Object Matrix is the award winning software company that pioneered object storage and the modernisation of media archives.  It exists to enable global collaboration, increase operational efficiencies and empower creativity through deployment of MatrixStore, the on-prem, hybrid and cloud storage platform. Their unified deployment approach ensures content spans on-prem and cloud storage whilst their focus on the media industry gives them a deep understanding of the challenges organisations face when protecting, processing and sharing video content. Customers include: BBC Wales limited, Orange, France Televisions,  BT, HBO, TV Globo, MSG-N and NBC Universal.
Search For More Content