Cardiff, 3rd April 2019 – Object Matrix, the award winning pioneer of Object Storage to the media and entertainment industry, has announced that it is launching a new analytics, monitoring and statistics tool at NAB 2019: "Sense".
Until recently the storage infrastructure within every post-production house and broadcaster extended from the PC to the data room. Nowadays with that storage infrastructure extending to the cloud and at times even beyond that onto customer premises, Sense enables the collection of real-time statistics of storage infrastructure usage, real-time monitoring of hardware and analytics of both usage and the types of information being stored.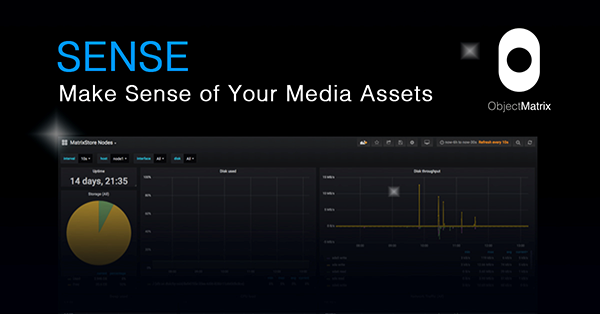 With the strapline "Making Sense of your Media Assets" Sense is a framework that can also deliver monitoring, analytics and statistics to alternative dashboards or that can be used stand alone as the central place to view and analyse how assets are being used.
Jonathan Morgan, CEO of Object Matrix commented, "Hybrid cloud opens up new opportunities for extending your storage on-prem through to the public cloud. With Sense you can both cost optimise where media data is stored as well as garner an overview of which assets you are using and which assets are under-utilised. Additionally, analytics are coming under renewed focus with modern image recognition (AI) algorithms able to better inform the admin what types of assets they actually own. For a post-production house the ultimate aim might be 'how much did this production cost me to post-produce?', for a broadcaster the question might be 'how much value do I have in my media library?'"
Sense is being delivered as a multi-phase project, the first stage of which will be demonstrated by Object Matrix on its booth SL5821at NAB from the 8th – 11th April. If you would like to book a meeting please email sales@object-matrix.com
About Object Matrix
Object Matrix is the award-winning software company that pioneered object storage and the modernisation of media archives. Our on-prem and hybrid cloud storage solutions bring operational and financial benefits to our customers by securely managing content at every stage of its lifecycle; from ingest and nearline to archive and distribution. Deployed where you need it, our technology is non-proprietary, integrates into existing workflows, enabling you to work locally and share globally.
Search For More Content