Octopus Newsroom Sets Digital and Linear News-Publishing Workflow at Centre Stage for BES Expo
Tue 08, 01 2019
New Delhi, India – Octopus Newsroom will introduce the latest version of its on-air and on-line news-publishing platform to broadcasters attending BES Expo in New Delhi, January 17th through 19th. Exhibiting on stand 39, the company will promote the widening system versatility made possible by an expanding range of modules.
"Broadcasters throughout the world are looking for the most efficient possible way to process news from an increasingly diverse range of sources, including social media, the web, syndicated news feeds and their own team of dedicated reporters," says Octopus APAC Director Miro Rusco.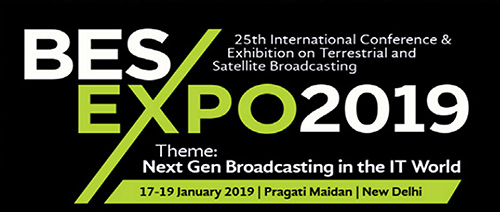 "The huge popularity of digital devices such as mobile phones in India as elsewhere has created a massive surge in demand for digital news text and video which viewers can select rather than having to sit through stories that don't interest them. Octopus delivers on both counts, enabling a single news production team, or at a push just one operator, to manage the entire operation. That represents a huge saving in cost and effort compared with employing separate news teams to cater for traditional and mobile viewing platforms."
"We will be promoting both the proven maturity and ongoing development of Octopus. Version 8.2 allows publishing to social platforms or websites directly from the long-term and short-term planning area. Related information stays attached to the topic and is easily trackable. This is a significant step towards better cooperation between the linear and digital publishing workflows, allowing resources to be used in a more efficient way with easy sharing of information among teams."
"Octopus 8.2 is more digitally focused than ever. It integrates easily with various web CMS systems as well as leading social media platforms such as Facebook, Twitter, YouTube and Instagram, so new teams can close performance gaps and effectively engage their audience."
A publishing platform for use in television, radio and online news broadcasting, Octopus allows easy ingest of all incoming source materials such as agency wires, RSS feeds and emails. It can display in a single view all content belonging to a feed, including images, video files or audio files. A powerful relational database with SQL enables users achieve their goals faster. With its topic-centric workflow, Octopus helps different teams within TV, radio and online portals work collaboratively on current affairs programmes and news items.
Octopus runs natively on Apple Mac OS X, Linux or Microsoft Windows so there is no need for a parallel operating system, additional licensing or remote sessions. Hot-standby servers can be added, offering automatic client switchover if the main server is offline. An easy to use REST API allows customers to build their own applications which can communicate and exchange certain data with the newsroom system.
Octopus Newsroom (www.octopus-news.com) was founded in 1999 and is today the world's leading producer of newsroom computer systems. With over 50 MOS partners,Octopus advocates an open ecosystem using the MOS protocol which enables operators to choose freely among high-quality providers of graphics, playout, MAM, prompters, traffic-handing and advertising solutions. Octopus Newsroom has successfully installed systems into more than 300 channels around the world. Based on Unicode, OctopusNewsroom products support all major character sets including Chinese, Japanese, Korean, Thai, and Vietnamese.
Related Content
Based on your recent activity and preferences we recommend the following pieces of content