New Pebble recruits in Brazil, France, and the UK will help the company continue to deliver world class solutions to the global broadcast community.
Pebble, the leading automation, content management, and integrated channel specialist, is delighted to announce the key appointments of new staff members to join its growing worldwide team. Vinicius Val de Casas and Clément Rouot join as Solutions Architects in Brazil and France respectively, while in the UK David Young joins as Product Owner, Tariq Al-Radhi joins as Customer Fulfilment Engineer on a student placement, and Anisa Khan joins as Junior Technical Author.
Vinicius has more than 10 years' experience in a series of engineering roles within broadcast and has also worked with Pebble reseller, Videodata. Residing in Sao Paolo he is perfectly placed to support the company's continued expansion into the LATAM market.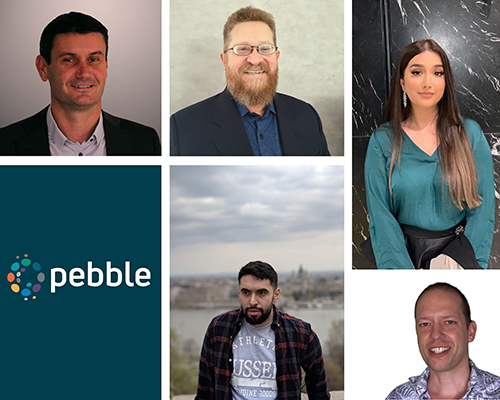 Most recently, Clément has worked as a freelancer working for various broadcasters and system integrators, including Canal+ Overseas, France Televisions and Videlio in France. Based in the South-West of France, he brings with him a wealth of Engineering, Bid and Project Management experience from across the Broadcast industry.
David brings a wealth of experience with him, having previously worked at Sony as a Software Developer before moving into pre-sales and then product management/ownership.
His most recent role has been in the FinTech industry, but he admits he couldn't resist the temptation of rejoining the broadcast industry.
Tariq is currently studying towards a Bachelor of Engineering degree on Electrical and Electronics Engineering with the City University of London. And Anisa graduated last year from Brunel University London, cutting her technical documentation teeth on a degree in Biomedical Sciences.
"We are excited to welcome new staff to the company at such a crucial point of growth for Pebble and are delighted that our remote working operating model is removing any geographical constraints to successfully recruiting," comments Peter Mayhead, CEO at Pebble. "It's the people that make Pebble, in fact one of our core values is 'Every Pebble Matters'. We value each and every one of them for their committed contributions to deliver world class solutions to the broadcast community 24/7. I have no doubt that Vinicius, Clément, David, Tariq, and Anisa will be brilliant additions to the Pebble team."
About Pebble
At Pebble we understand that efficiency, reliability and sustainability are vital for playout operations, and we know that interoperability with multiple vendors, standards and technologies is key. As a world leader in automation, integrated, IP and virtualised playout technology, with systems installed in more than 70 countries worldwide and over 1500 channels played out under Pebble automation control,  we have the people, the process, and the technology that the broadcast market needs as it changes and adapts to compete with new entrants in the video media space.
Search For More Content