Award winning Asharq News becomes one of the first SMPTE 2110 compliant stations operating in the region.
Pebble, the leading automation, content management, and integrated channel specialist, supplied its playout technology to help ensure the successful launch of Asharq News, the leading multiplatform economic and political news service. Announced last November 2020, an exclusive content agreement between Bloomberg Media and Saudi Research and Marketing Group (SRMG), powers a key component of the channel: 'Asharq Business with Bloomberg'.
Asharq News is headquartered in Riyadh with central offices in Dubai International Financial Centre in UAE, and Washington in the US, and key hubs and studios in Cairo and Abu Dhabi. It also has regional offices and correspondents across key Arab countries and in major global cities, in addition to access to Bloomberg's worldwide network. A winner of the prestigious BroadcastPro ME Innovative Project of the Year award, and recently announced nomination for the Excellence in Technical Installation and Supplier Innovation award in the esteemed Digital Studio ME Awards, it features many state-of-the-art broadcast components and is one of the first SMPTE 2110 compliant stations operating in the region.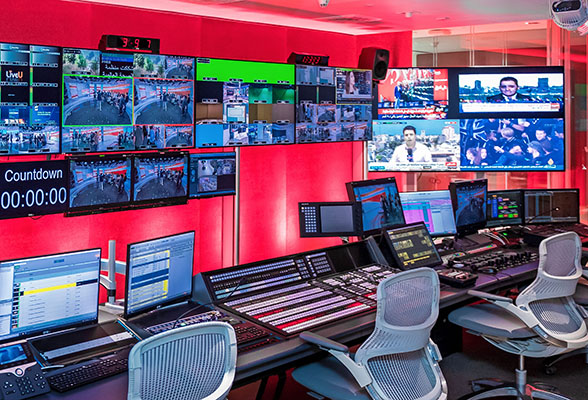 As a pure IP deployment the Asharq News project illustrates the power and flexibility of IP systems when it comes to establishing new broadcast channels in the 2110 era.
At its heart is a complex transmission pipeline with a large number of inputs and outputs, and featuring approximately 80 'flows' (video, audio, and ancillary data) per integrated channel device. 2110 inputs can come from any source — studio, camera, elsewhere —, while outputs include the main program output, dedicated outputs for YouTube (with and without graphics), clean outputs for monitoring, and more.
The system also features DVEs, native Pebble Integrated Channel graphics and 2110 Vizrt external graphics, NDI monitoring outputs, 2110 live Voice Over, SCTE Signaling support, loudness processing, media recording, and more. Multiple integrations were required and managed by the Pebble development team overseeing the installation, including VizRT, Avid MAM, Evertz, and BTS.
"The flexibility of the SMPTE 2110 approach meant we could iterate rapidly and adapt the workflow to meet our needs," comments Omran Abdallah, Engineering Director at Asharq News. "We were already on air when subtitles were added to the chain within a day- ensuring no impact to our seamless on-air performance. In a traditional hardware implementation that would likely have taken weeks to achieve."
All changes to the system installed at Asharq News can be undertaken via a single user interface, ensuring the channel has an agile set up that is both responsive to market needs and future-proofed.
"We are delighted to have supplied our playout solutions to Asharq News," comments Samir Isbaih, Pebble. "This is an important installation for the Middle East and elsewhere, as Asharq News' integrations and features do far more than simply mirror SDI deployments in a much smaller footprint, they show the power and flexibility of IP-based workflows to continually iterate and bring agile flexibility to the continual evolution of broadcast channels that the market demands."
About Pebble
Pebble is a world leader in automation, channel in a box, integrated and virtualised playout technology, with scalable products designed for highly efficient multichannel transmission as well as complex news and sports television. Installed in more than 70 countries and with proven systems ranging from single up to over 150 channels in operation, Pebble offers open, flexible systems, which encompass ingest and playout automation, and complex file-based workflows. Visit pebble.tv for more information.
About Asharq News
Asharq News, launched on 11.11.2020, is a 24/7, multiplatform Arabic news service reaching across the Arab world and beyond with a unique approach: news and in-depth analysis reported through the prism of the economy to empower people in their everyday lives. The Asharq News experience is delivered through a dedicated television channel, as well as multiple digital platforms, offering continuous insights into the people, events, organisations and ideas that impact the MENA region and international markets. An exclusive content agreement with Bloomberg Media, the business and financial information news leader, powers a key component, "Asharq Business with Bloomberg", drawing on Bloomberg's comprehensive coverage from more than 2,700 journalists and analysts globally. "Asharq Business with Bloomberg" aims to become the premier Arabic-language business news provider, using multiple platforms to reach business leaders, as well as a younger generation that understands the importance of global economic, financial and corporate information. With this collaboration, Asharq Business teams (broadcast and digital) have access to Bloomberg's extensive financial and economic content, analysis and market data, curating translated stories from Bloomberg to our platforms. 'Connecting the Dots' is Asharq News slogan that drives its journalistic work and sets its ultimate goal. The dots at Asharq News connect the news to its context, geographical setting, historical dimension, political depth, economic impact and social reality. Asharq News targets decision makers, businesspeople, entrepreneurs, and political and technology leaders through its economic content, as it addresses all aspects of political developments from an economic perspective. Asharq News is headquartered in Riyadh, with central offices in the Dubai International Financial Centre, UAE, and Washington D.C., and has major hubs and studios in Cairo and Abu Dhabi. It also has regional offices and correspondents across key Arab countries and in global capitals, in addition to access to the content produced by hundreds of reporters from Bloomberg's network around the world. Asharq News is owned by the Saudi Research and Marketing Group (SRMG): we belong to a large and well-established media conglomerate and family. Established in London in 1978, SRMG is the Middle East's largest publishing group and only publicly listed media company, with more than 16 publications and digital platforms providing the latest in political, financial, sports, and lifestyle news and analysis. Within its first 3 months of launch, Asharq News was awarded 'ME Innovative Project of the year' 2020- at the annual BroadcastPro Annual Summit & Awards and shortlisted as trendsetter.
Search For More Content