London, UK – Phoebe Fraser Ltd, a specialist provider of production support services for film television and radio, has invested in a Leader LV5350 waveform monitor. The instrument will be used at the company's London headquarters and on location. Its first project will be the upcoming film Matilda, based on the novel by Roald Dahl.
"Leader test equipment has proved versatile, logical to operate and reliable over many years," comments Phoebe Fraser. "The new LV5350 provides a complete set of reference tools for TV and digital film programme creation and post-production. Portability is essential for many of the projects we work on so the LV5350's compactness and ability to work under battery or mains power are important. Leader's CINEZONE and CINELITE features are particularly useful, allowing camera settings to be checked between scenes and monitored during the actual shoot. The front panel video monitor gives us the ability to compare specific elements – luma waveform or chroma vectors for example – in freeform multiscreen mode. If something needs special attention, we can select the relevant single-display view for close-up inspection. Almost every feature is accessible quickly and easily from the front panel. We also have the option of adding extra software or hardware modules as or when needed to handle new standards such as ultra high definition, high dynamic range and wide colour gamut."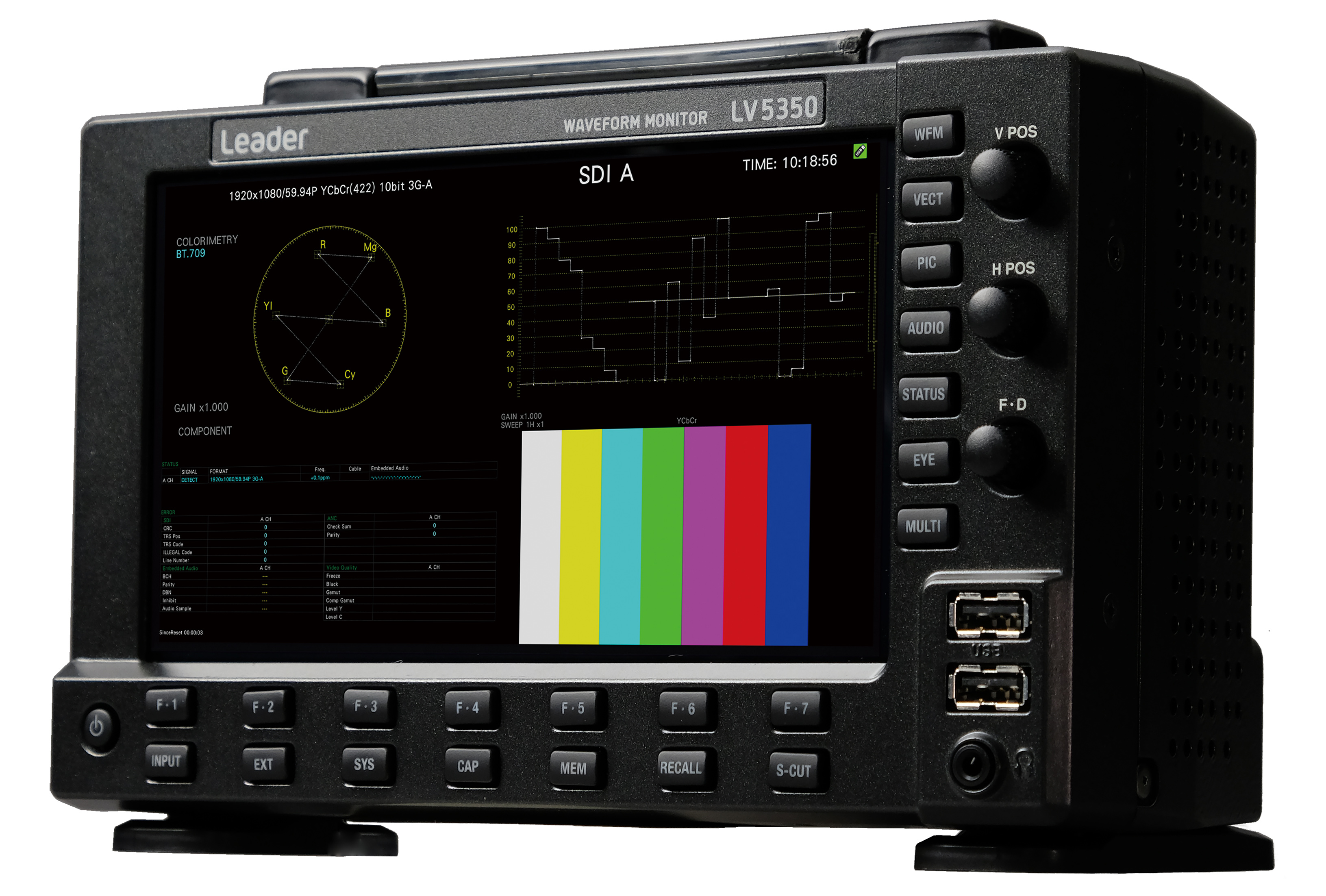 "One of Britain's leading digital imaging technicians, Phoebe Fraser founded her company after graduating from Ravensbourne College of Design & Communication," adds Chris Margrave-Gregory, Senior Broadcast Sales Specialist at Thameside.tv. She has worked in various production and post capacities on over 30 film and television projects, including DIT roles for The Eternals, No Time to Die, The King's Man, Peter Rabbit, The Dig, Blackbird, State of the Union and Peterloo."
"The LV5350 is designed for use in 4K/HD/SD-SDI environments which do not require IP measurement capabilities," details Leader Europe Managing Director Koichi Fukagawa. "It supports all the SDI facilities of Leader's top-of-the-range LV5600 minus the IP measurement capabilities which are currently a minority requirement. The LV5350 has proved especially popular with DITs and camera crews. A key feature is its ability to display two sources simultaneously, allowing side-by-side comparison of the output from two cameras, for example, during initial alignment."
The LV5350 incorporates a wide range of engineering-related features including test pattern generation, closed caption monitoring, CIE colour chart, high dynamic range measurement, focus assist, customisable screen layout, tally interface, 4K/UHD operation and 12G-SDI interfaces. These are supplemented by the intuitive CINEZONE and CINELITE toolsets which are familiar to many camera crews, editors and colourists. A focus detection algorithm allows the instruments to sense edges across a very wide range of image contrast levels. All features are accessible from the front control panel augmented by a 1920 x 1080 resolution 7 inch touchscreen TFT LCD monitor.
About Thameside
Thameside.tv (www.thameside.tv) was established in 1994 and is a totally independent supplier of broadcast and digital film production equipment. A Leader specialist distributor since 2004, Thameside.tv has supplied and installed complete digital intermediate facilities both in the UK and overseas. Thameside.tv also provides complete asset disposal programmes and evaluations as well as system design and integration services.
About Leader Electronics Corporation
Leader Electronics Corporation (www.leader.co.jp/en) has earned a worldwide reputation for designing and manufacturing highly reliable, practical and powerful test and measurement instruments. Leader products are specified for broadcast, production, post-production, research, product development and service applications. Manufacturing quality is built in every step of the way.
The Leader product range includes award-winning 3G/HD/SD SDI waveform monitors and rasterizers, all with customizable layouts. Among the available options are 4K/UHD, CIE color chart, HDR measurement, test pattern generation, eye and jitter measurement, closed-caption display, IP and 12G/6G-SDI. Leader has helped many customers manage their transition from analog to digital, from SD to HD, from HD to 4K/UHD, from SDR to HDR and from BT.709 to BT.2020 wide color gamut. Leader also provides SMPTE ST2022-7 and ST2110 support for the transition from SDI to IP.
Search For More Content